UWS is leading the way in Innovate UK's flagship programme – Knowledge Transfer Partnerships (KTP) – with 30 projects now approved.
Recent project wins mean that the University has also entered the top five in the UK for the first time in terms of portfolio size.
KTPs link businesses to world-class academic partners in the UK to drive innovation through collaboration, bring about change and embed new knowledge, skills and capability. Projects address a specific business need, identified by the company.
Stuart McKay, KTP Manager at UWS, said: "KTPs are a great example of what can be achieved when industry and academia join forces. At UWS, we've gone from having just three projects two years ago to 30 today, taking us from fiftieth in the UK to fifth."
"I'm delighted at the progress we've made and the impact which we're having on a variety of sectors, and look forward to seeing our KTP work progress further still in the months ahead."
Stuart McKay, KTP Manager at UWS
At UWS, a significant proportion of academics come from, or have direct experience of working with, industry, leading to powerful relationships across a range of sectors.
The University works with a range of companies on a variety of projects, including advanced robotics, computing, machine learning and artificial intelligence, materials science, bio-science, physical chemistry, engineering and life sciences, as well as business and creative industries.
For each partnership, the University employs a recently-qualified graduate – known as a KTP associate – who works under the guidance of an experienced academic team to deliver a project between 12 and 36 months. Projects are grant funded at up to 67% for SMEs and 50% for large companies.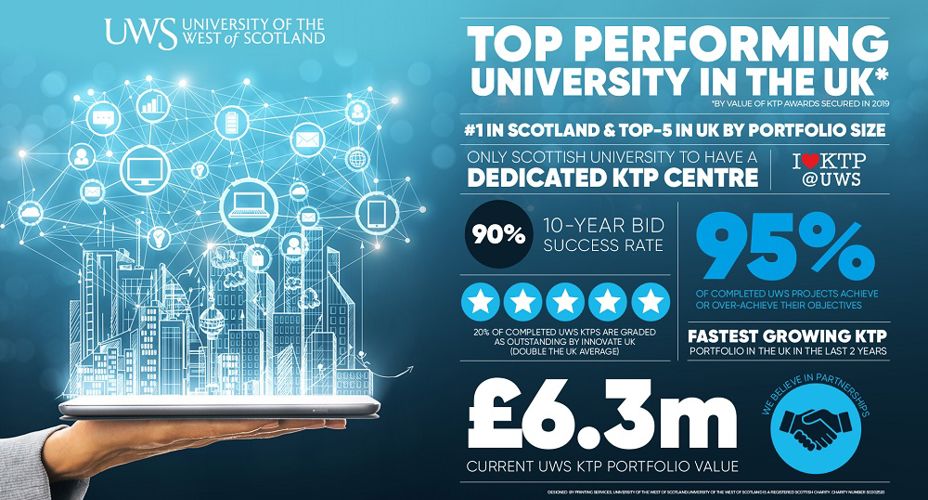 The University also became one of only two universities to be awarded a Management KTP (MKTP) from Innovate UK last year, a programme designed to upskill and empower management teams, enhance business productivity and introduce transformational change through partnerships with business schools.
Stuart added: "KTPs are a strategic priority at UWS and allow our research outputs and industry-facing academics to deliver genuine impact across a range of industries while addressing national and global challenges."