UWS has played a key role in a new development by Morrison Construction – introducing a virtual reality induction to improve safety on site.
A £50,000 investment has been made by Morrison Construction to create a new virtual reality (VR) induction as an engaging way to provide education on site safety.
The induction, developed in partnership with the University of the West of Scotland with the expertise of 3D animation specialists Animmersion, was unveiled earlier this month at the Construction Scotland Innovation Centre in Blantyre.
The site and construction teams from the Morrison Construction Scottish Water business were heavily involved in the eight-month development process to create a realistic experience for induction participants.
Industry experts who attended the event learnt about the VR experience for site induction and had the opportunity to take part in a live demonstration to experience the technology first-hand.
The induction, set in a Computer-Generated Imagery construction site, allows users to immerse themselves in the animated environment as they navigate their way through three modules using goggles and hand controllers.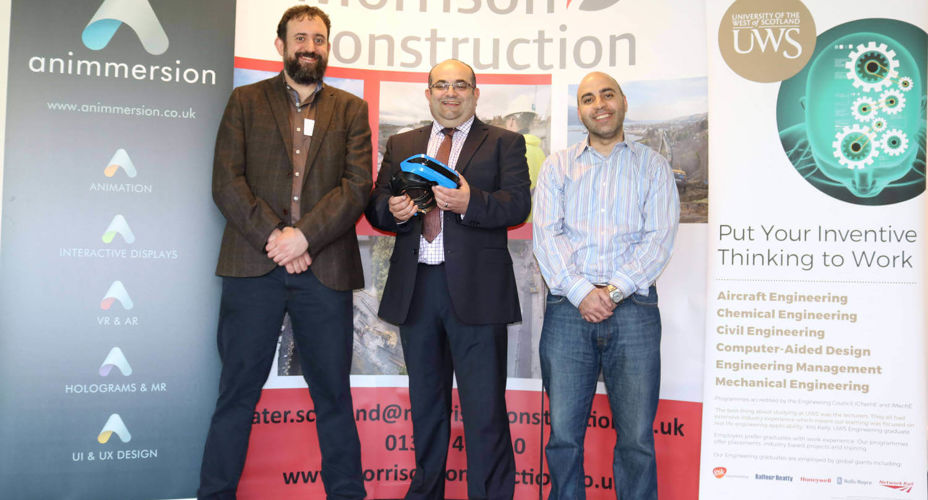 These modules allow users to become familiar with a construction site, recognise common dangers and complete a simple activity on site emphasising the importance of correct safety procedures.
Morrison Construction Scottish Water Operations Director, Stephen Slessor said: ''We are very excited to showcase our VR site induction, providing an engaging way for employees to receive vital safety training. Today marks this significant investment in site safety by Morrison Construction and I would like to thank members of our team and our project partners for their valued contributions.
''Health and safety is our number one priority at Morrison Construction and we believe this real-time learning system can benefit the wider construction sector by enhancing traditional site processes. Using this VR induction allows participants to make mistakes in a safe environment."
"It is great to see Morrison Construction launching this innovative VR induction. VR application in the construction industry provides an effective means for health and safety training. It helps to raise awareness of on-site hazards and ensure compliance with HSE guidelines, thereby reducing the likelihood of on-site incidents."
Mohamed Abdel-Wahab - UWS Senior Lecturer in Construction Engineering
UWS Senior Lecturer in Construction Engineering, Mohamed Abdel-Wahab said: "It is great to see Morrison Construction launching this innovative VR induction. VR application in the construction industry provides an effective means for health and safety training. It helps to raise awareness of on-site hazards and ensure compliance with HSE guidelines, thereby reducing the likelihood of on-site incidents. This project is an exemplar of university-industry collaboration for the application of VR. We can only make a difference and change industry's practice through truly collaborative endeavours such as this."