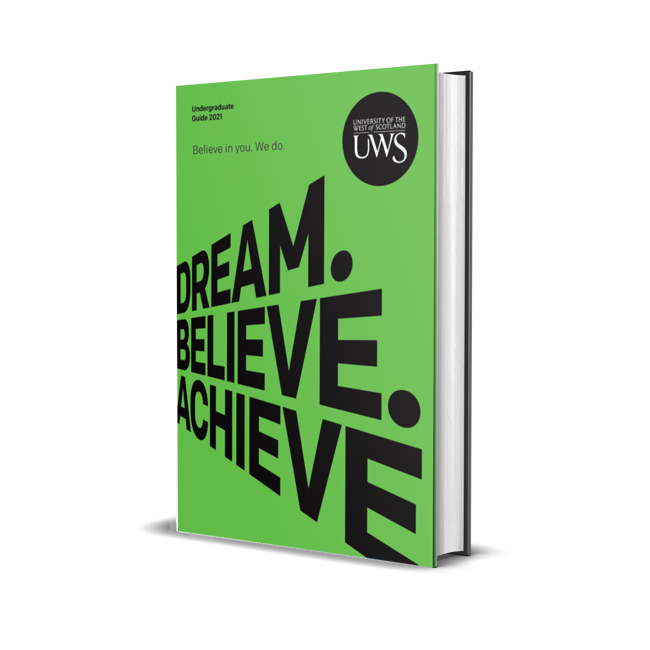 University of the West of Scotland (UWS) is today proud to launch Scotland's first customisable digital undergraduate prospectus.
The University's digital prospectus, for undergraduate courses beginning in September 2021, enables prospective applicants to tailor their prospectus to their interests.
By answering a few simple questions, prospective students will receive a link to their personalised prospectus straight to their inbox – letting them access the information they need on the go in a format that works for them.
Allowing for customised content for different markets – such as college or international applicants – the digital prospectus will not only provide a more modern prospectus offering, but it will enhance the entire applicant journey.
The innovative move, part of the University's digital-first approach to targeted, personalised marketing, will be complemented by a UWS printed guide significantly reduced in size and pagination, with fee and entry criteria for Scottish, rest of UK, college and international applicants provided in inserts which sit alongside the main document.
SUSTAINABILITY
Saving on paper and delivery, this is the latest in a series of steps from the University to improve its sustainability and reduce its carbon footprint. UWS has eliminated single-use plastics in our retail outlets, increased its vegan food range and the £110 million Lanarkshire Campus runs completely on renewable energy. The University's green credentials have been nationally recognised too, having been named the UK's most sustainable and inspiring higher education building at the Guardian University Awards 2019 and campus of the future at the 2019 Green Gown Awards.
The UWS digital undergraduate prospectus is a first for higher education in Scotland, and comes as a direct result of listening to our students and prospective students. This tailored prospectus is a real step forward in terms of giving our applicants the information they want in the format that they need it.
Marcus Ross, Executive Director, UWS
Marcus continued: "The new prospectus not only looks great, but it confirms that we at UWS are here for our students and our communities, and that we're adapting to their wants and needs.
"It's not too early to start planning your next steps, so I'd encourage anyone to head online and fill out the form to get their bespoke prospectus today."
You can access the new digital prospectus, and start creating your own through the UWS website.
A digital postgraduate prospectus will follow later in the year.