CAREED
CAREED (Centre for African Research on Enterprise and Economic Development) is a unique centre of excellence within Scotland which will initially focus on 4 areas of interest which reflect the current research interests of academic staff, namely: commodities and exporting; enterprise and entrepreneurship; logistics and supply chain management; governance and ethics; and microfinance and social business.
This concentration will evolve over time as the Centre expands and develops.
Our vision
Our vision for CAREED is based on two main foundations:
Firstly, our vision reflects the current economic transformation that a number of African economies are experiencing (according to organisations such as the IMF and the World Bank). In that context, CAREED is well placed to conduct high level and applied research in the areas of enterprise and economic development to contribute to that process. 
Secondly, we have an unrivalled group of staff and PhD students who are either from the continent or are studying various aspects of African economic development within the School of Business & Creative Industries.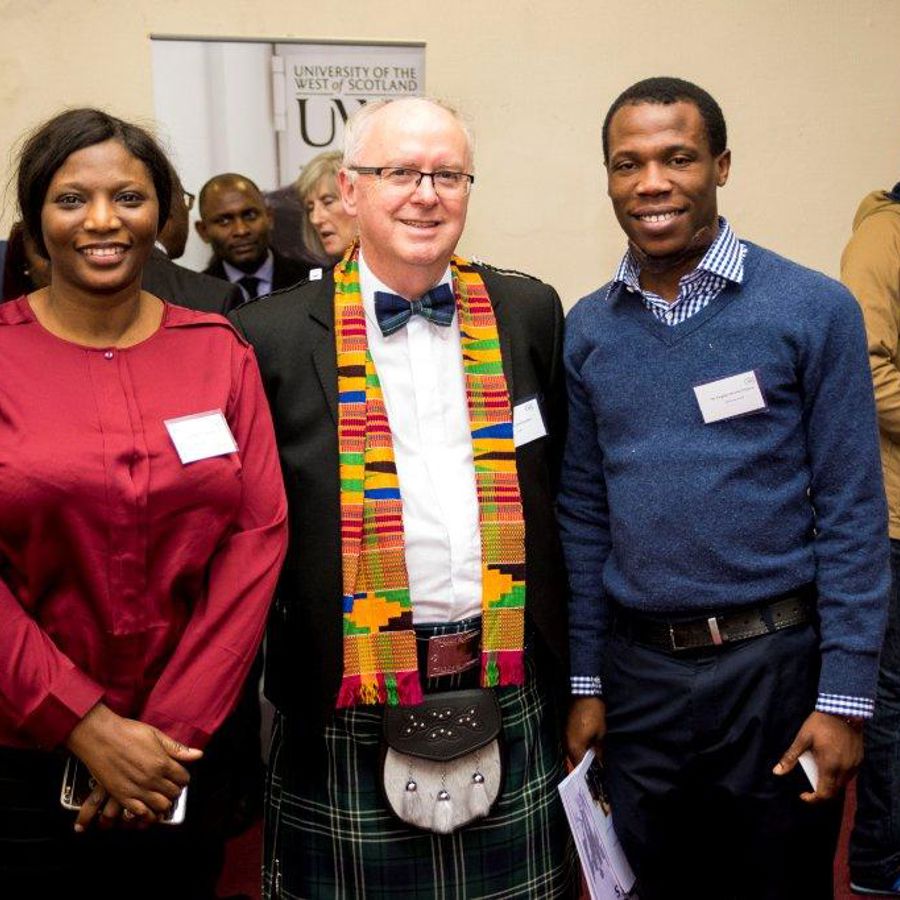 Professor John Struthers, Director, CAREED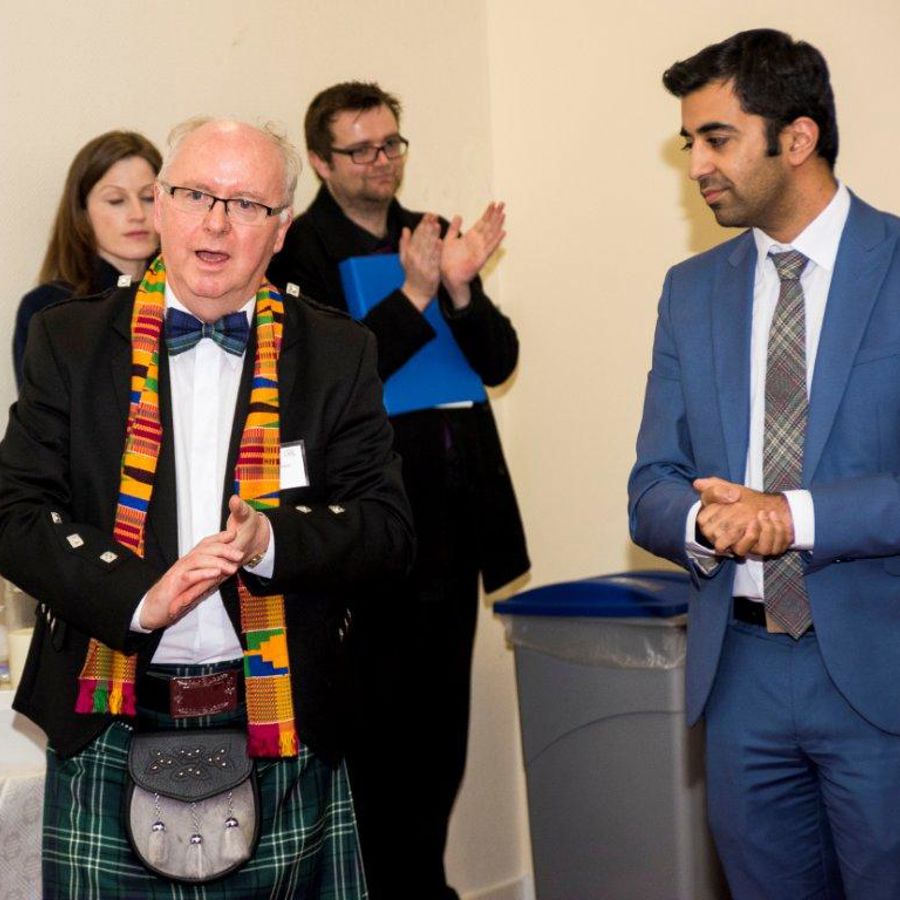 Professor John Struthers and Yousaf Hamza MSP
Conferences & Events
CAREED has held many conferences over the last few years on the broad theme of enterprise and economic development in Africa. These conferences relate to African economic development: Commodities and Trade; African Enterprise; Logistics and Supply Chain: and Governance, Microfinance, and HR. 
CAREED's 5th Annual Conference
Enterprise and Economic Development in Africa: Growing Healthy Entrepreneurial Ecosystems
25-26 June 2020
Find out more about CAREED 2020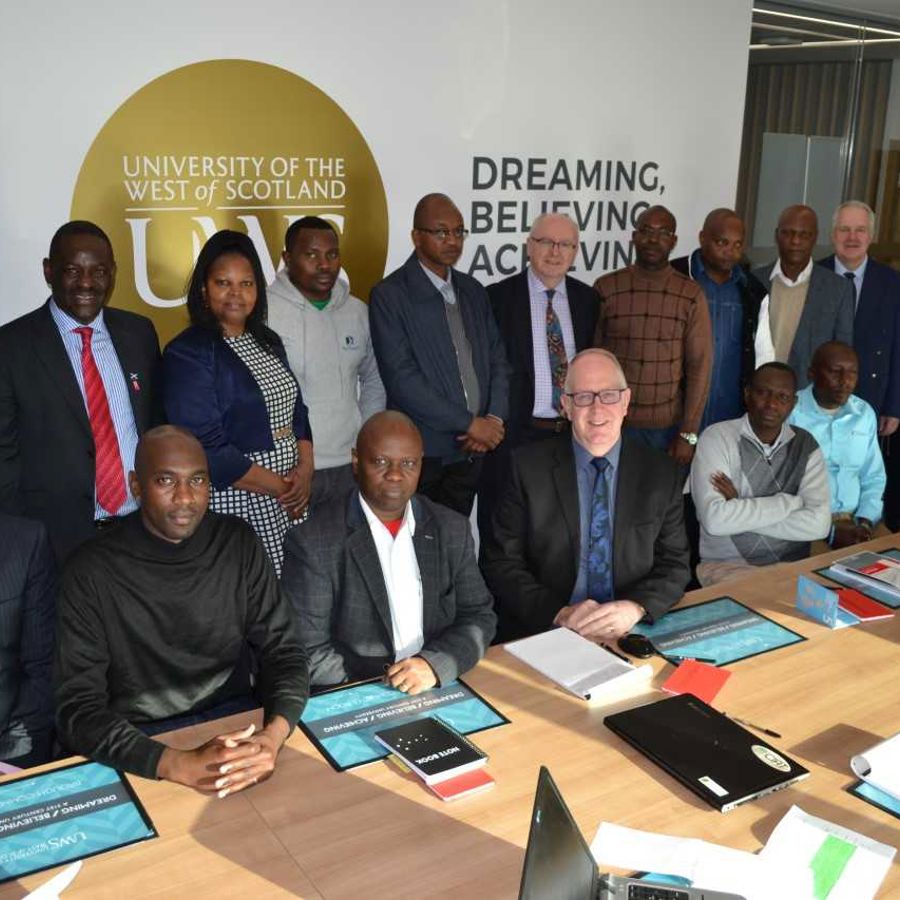 Kenyan Delegation at CAREED conference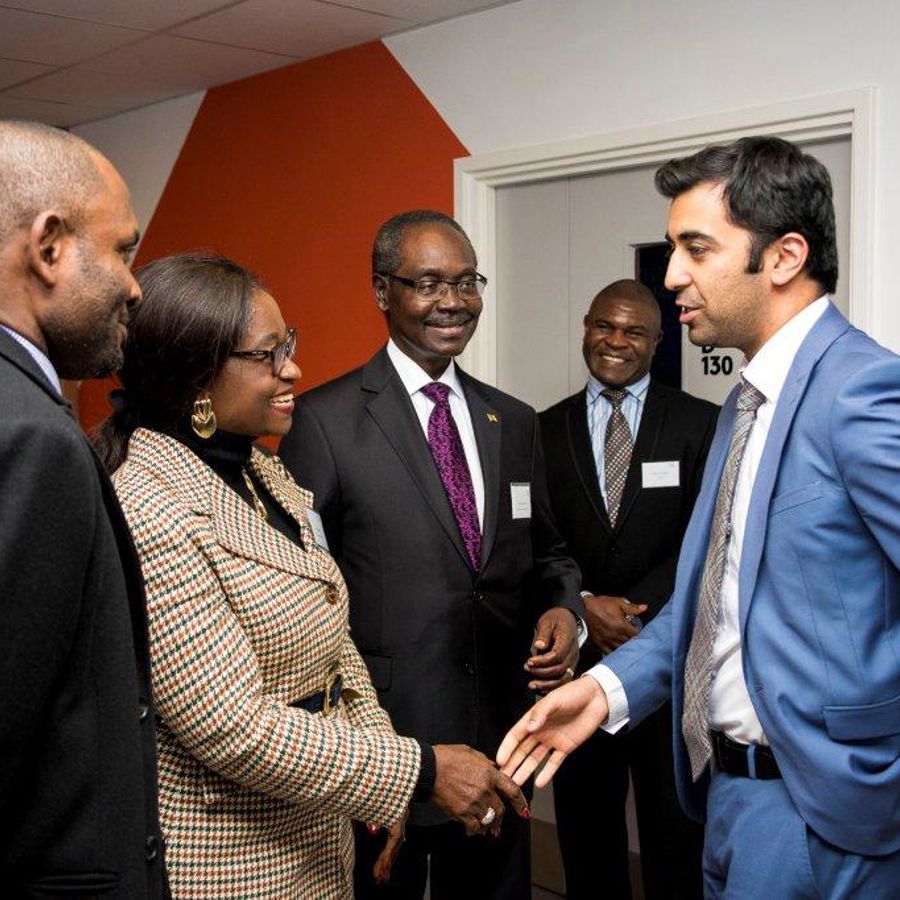 Former High Commissioner of Cameroon to UK, Berhanu Ekaney meets Yousaf Hamza, Scottish MSP
Africa Debate - CAREED conference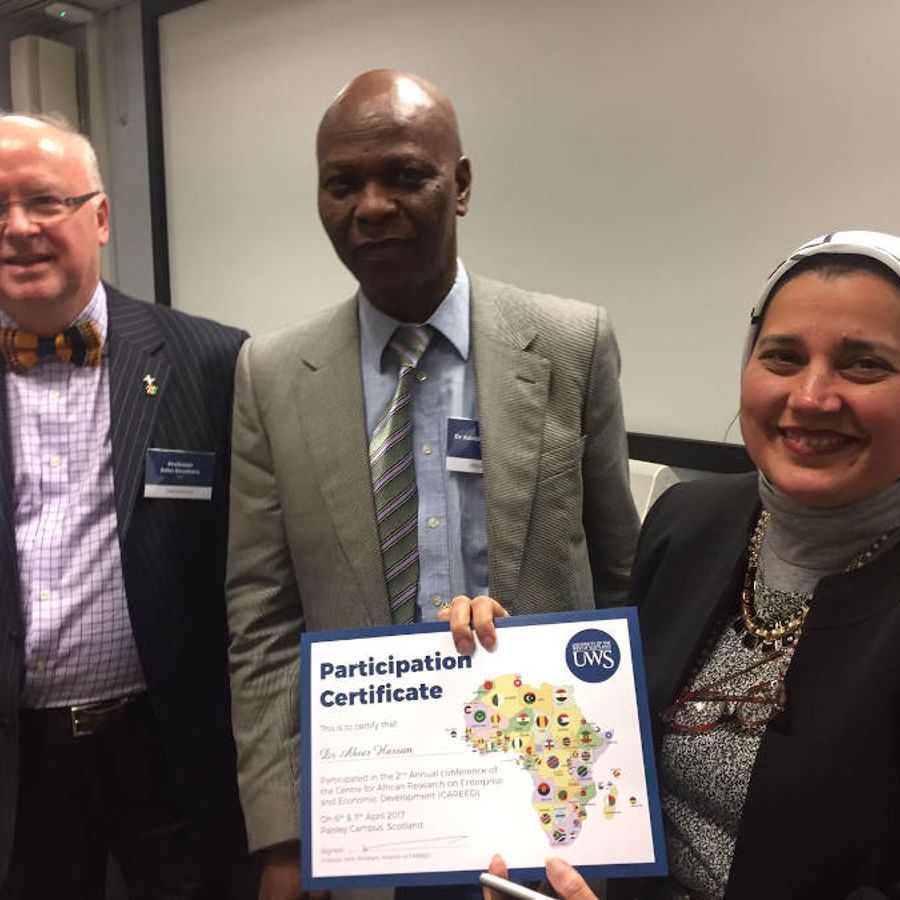 CAREED confernce prizegiving ceremony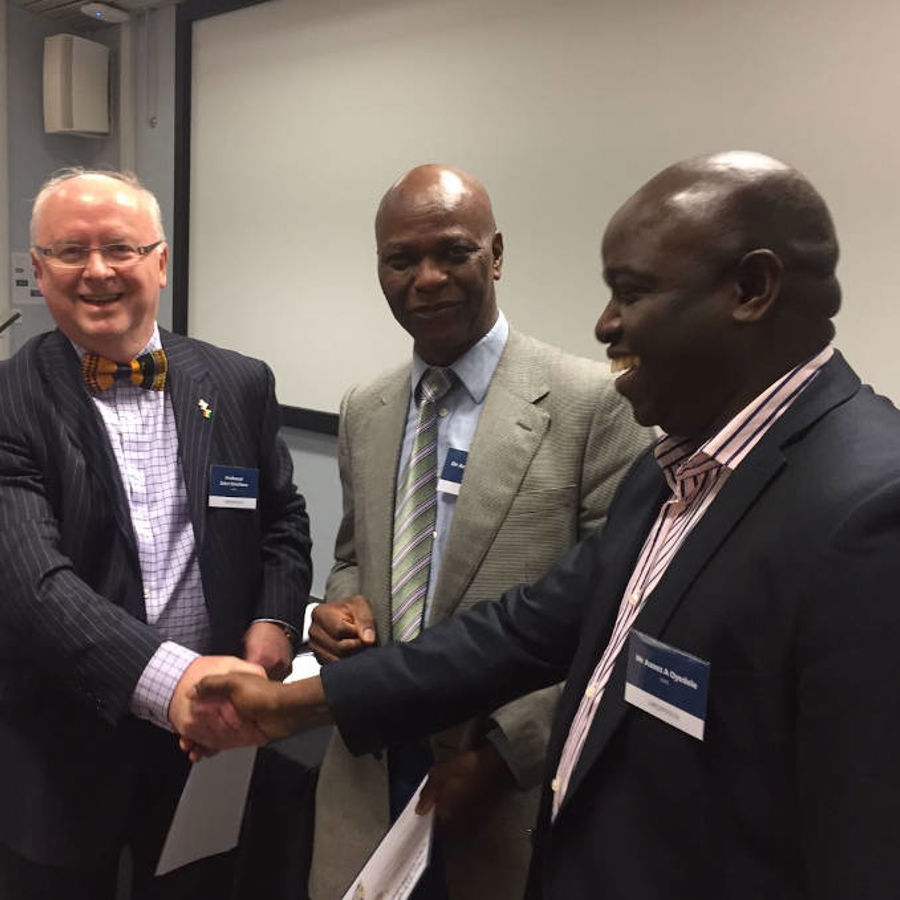 CAREED confernce prizegiving ceremony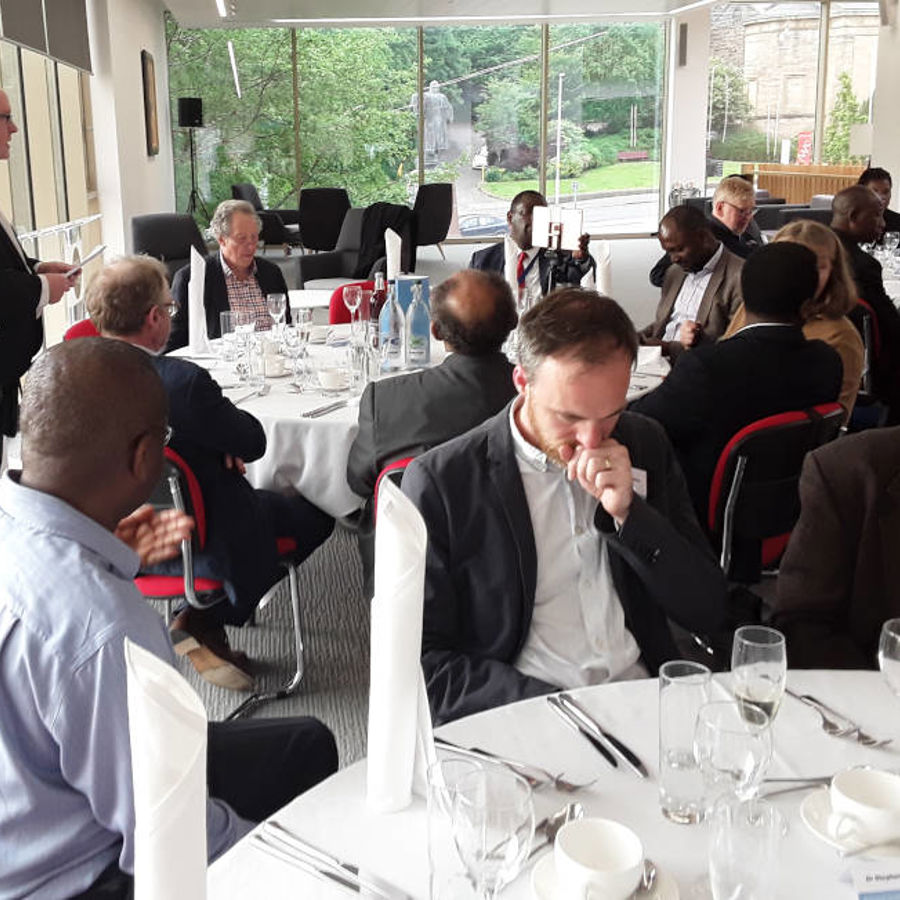 CAREED conference dinner
Previous CAREED Conferences
CAREED has hosted a number of international conferences since its inception in 2014. Below are the names and dates of these conferences.
CAREED 1st Annual Conference 2015
Thursday 12th and Friday 13th November 2015
Theme: African Enterprise and Economic Development: A proud History, A Promising Future
CAREED 2nd Annual Conference 2017
Thursday 6th April and Friday 7th April 2017
Theme: Nurturing Entrepreneurship and Economic Development in Africa
CAREED 3rd Annual Conference 2018
Thursday 31st May and Friday 1st June 2018
Theme: Transforming Barriers to Effective Economic Development in Africa into Enablers
CAREED 4th Annual Conference 2019
Thursday Wednesday 29th – Friday 31st May 2019
Theme: Enterprise and Economic Development in Africa: Challenges and Opportunities
CAREED Updates
For a complete overview of research activities involing UWS staff, please also refer to our research portal.
Recent Research Bids
CAREED researchers are seeking to improve the livelihoods and nutrition in Rwanda through a ground-breaking new aquaponics research project. They have embarked on the unique pilot project that is targeting a 50 per cent increase in productivity in the sector. In fact, they think it could help as many as 80,000 farmers across 2,000 farms to reduce food shortages within 10 years. UWS's CAREED and social enterprise collaborators NjordFrey, who are based in Rwanda, were recently awarded a grant of £283,774 by the Department for International Development (DFID) / Innovate-UK for the 18-month feasibility study. Find more on this story on our News section.

Successful joint bid with UWS School of Computing and Engineering for project on upgrading enterprise skills of female handicraft entrepreneurs in Uganda. Funding by The Royal Academy of Engineering.
Professor John Struthers in conjunction with the School of Science and Sport and external agents, Diaspora Community Support Services welcomed a delegation of government officials from Kenya. The delegates were in Scotland for two weeks in February and undertook CPD training courses in environmental topics. The course was funded by the World Bank and the delegates came from from the Kenyan Ministry of Housing, Transport, Environment and Urban Infrastructure.  
Recent publications
Adewole, A. and Struthers J. J. (2018) "Logistics and Global Value Chains in Africa: The Impact on Trade and Development",  Palgrave Macmillan: Palgrave Studies of Sustainable Business in Africa Series
Nziku, D. M  and Struthers, J.J (2018) "Female entrepreneurship in Africa: strength of weak ties in mitigating principal-agent problems", Journal of Small Business and Enterprise Development, https://doi.org/10.1108/JSBED-03-2017-0115 (forthcoming in Special Issue on Entrepreneurship in Africa)
Struthers, J. J (2017) "Commodity price volatility: an evolving principal-agent problem", in Future Fragmentation Processes; Effectively Engaging with the Ascendancy of Global Value Chains, ed by Keane, J and Baimbill-Johnson, R, Commonwealth Secretariat, London
Harrison, C, Burnard, K and Paul, S (2018) "Entrepreneurial leadership in a developing country: skill based analysis, (forthcoming in Journal of Small Business and Enterprise Development)
Harrison, C (2018), Book on Leadership published by Palgrave Macmillan, London;
Nziku, D (2017), co-author of book chapter in book on Female Entrepreneurship, published by Edward Elgar, London
Recent & Current Doctoral Students' Research Topics
Olamide Olusegun

Public Sector Procurement and Documentation in Nigeria

Ayodele Adetuyi

National Policy and Corporate Sector Development: A study of Agriculture Development in Western Nigeria

Kingsley Nnamdi Emeana

Coffee Price Volatility hedging using a single-step model

Beatrice Isah Dara


Can Trade Openness Improve the Human Development Index of the lowest Sub-Saharan African Countries?

Azeez Abiola Oyedele


Price Discovery in the Ethiopian Commodity Exchange (ECX): The Role of Warehouse Receipts

Kolade Abimbola Nasir


Energy Infrastructure Financing in Developing Countries and Project Finance in the Nigerian Energy Sector

Tope Falade


Implementing Industrial Ecology in the Nigerian Free Trade Zone
Collaborations & Networks
We collaborate with both academic and non-academic institutions across the world. A few of CAREED collaborations are with the following:
Department for International Development (DFiD), United Kingdom
United Nations Conference on Trade and Development (UNCTAD)
Development Studies Association (DSA) Scotland Study Group, University of Strathclyde
The Ethiopian High Commission, London United Kingdom
Cameroon High Commission, London United Kingdom
Africa Forum Scotland - Next Step Initiative – (NSI)
Heart for the City of Glasgow (Rev. Dr Lukas Njenga)
Just Trading, Scotland (Professor John Riches)
Challenges Worldwide (Mr Neil Fleming)
Coffee Conscience, Scotland (Mr Billy Miller)
Innovation UK
Mount Kenya University, Kenya
University of Glasgow, Scotland UK
Glasgow Caledonian University, Scotland UK
St Andrew's University, St Andrew's UK
Fellows
Professor Jacinta Nwachukwu
Lancashire School of Business and Enterprise , University of Central Lancashire, Preston, UK

Dr Samuel Gayi
Retired UNCTAD Director, Special Unit Commodities – United Nations, Geneva – Switzerland

Dr Alice Nicole Sindzingre
National Centre for Scientific Research (CNRS) France
UWS PhD Candidate Members
Associate Members
Dr Isaac Amaoko
Liverpool John More University
I.O.Amoako@ljmu.ac.uk
Dr Thandi Mtetwa
Kingsley Obinna Omeihe
Edinburgh Napier University

Henry Eze
Strathclyde University
Willie Mambwe
University of the West of Scotland
Professor John Adams
British University of Egypt
Lucas Njenga
lukas@heartforthecity.co.uk
Overseas Associate Members
CAREED Membership Benefits
As a member of the centre, you will be part of a network of professionals with good solid foundation of African experience and research expertise focused on commodities and exporting, enterprise, logistics, supply and value chains, government, ethics, microfinance, social business and economic development.

You will have the opportunity to gain knowledge and share your expertise and experience through our seminar, workshops, conferences and other events. In addition members can publish their articles with our working paper series and will have access to our high quality research done by our expertise in different fields.

The centre will provide a mutually supportive environment and structure in which PhD student research career can be nurtured and supported. This will be together with support for attending and presenting in conference and workshops, opportunities to engage in teaching, participation in centre workshops, seminars and all the academic conferences that will be organised by the CAREED. In the long run possibly internship opportunities in companies and public sector organisation with an interest in Africa.

All the CAREED members will be entitled for a special discount fees in the writing retreats that will be organised by a full qualified and formally trained organiser.
Contact us 
Email: careed@uws.ac.uk
Business School
University of the West of Scotland
Paisley
Scotland
PA1 2BE
Last updated: 20/02/2020
RT @UniWestScotland: The fifth annual @CAREED_UWS conference is this year taking place online 💻 Find out more about the line up for this y…
PURE is the University's research information management system and provides a single source of research information for UWS. It is used to record and manage research activity with details of research outputs, funding applications, conference contributions, external impact and staff profiles.