Alzheimer Scotland Centre for Policy and Practice
Vision: To be a centre of excellence advancing dementia policy and practice through education, applied research and social enterprise.
Mission: To work collaboratively with people with dementia and carers, the scientific and practice communities to advance evidence informed dementia policy and practice.
Our work focuses on three key activities:
Applied research for policy and practice
Education to promote evidence informed practice
Policy influencing and implementation
At the Alzheimer Scotland Centre for Policy and Practice (ASCPP) we believe that people with dementia deserve high quality care. We know that this is possible when:
Practitioners have enhanced dementia knowledge and practical skills
When enlightened policies are put into practice
When society respects the rights of people with dementia
When we work in partnership with people with dementia, their family and friends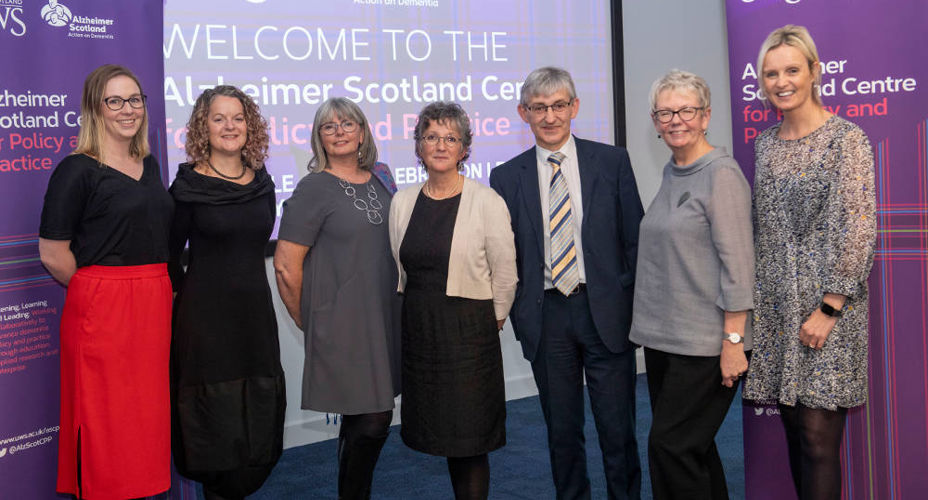 Professional Development and educational opportunities
We offer a range of masterclasses and bespoke CPD aligned to the skilled and enhanced levels of the Promoting Excellence Framework. These programmes are designed and delivered by our team of award winning dementia educators and practice experts. Please speak with us and we will do our best to support your dementia education needs.
Our areas of speciality include evidence based contemporary dementia care, positive approaches to eating, drinking and personal care, working with stress and distress, advanced dementia care, complementary approaches, meaningful activities and supporting people with dementia to live the best life possible.
Our approach support learners to connect with older people and people with dementia using cognitive, emotional and haptic learning and teaching strategies in a safe and supportive way.
CLASS IN A BAG
We have developed Class in a Bag which is a portable educational resource which raises awareness of dementia. The resource was developed from seminal UWS research 'Dementia through the eyes of a child' and was winner of Best Educational Initiative at Scotland's Dementia Awards 2016.
It includes the physical resources and lesson guides for five experiential interactive workshops and supports the exploration of ways to support people living with dementia.
Watch our video to learn more about Class in a Bag
There are two versions available, one for use with practitioners and the lay public and the other for teachers to use with pupils to support understanding of the ageing population and intergenerational support. To find out more and purchase the bag please click here select the links below.
Understanding Dementia: Class in a Bag (Public and Practitioner)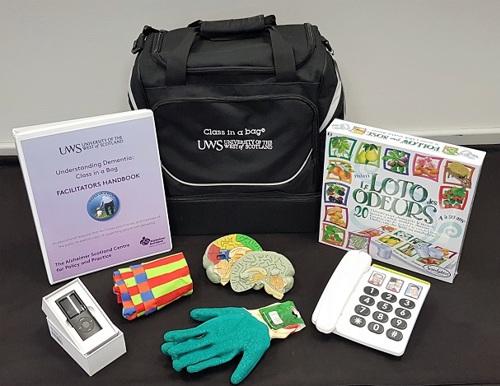 The public and practitioner resource is suitable for practitioners and members of the public who are engaging with people affected by dementia. This may be family, friends, or carers from a work, volunteering or leisure setting.
The resource is aligned to the 'informed level' of the Promoting Excellence Framework (NES SSSC, 2011). It is designed to be portable, so that it can be used without the need of a projector or computer equipment.
To find out more information regarding this resource please visit:https://shop.uws.ac.uk/product-catalogue/educational-resource
Understanding Dementia: Class in a Bag (Schools and Educational Organisations)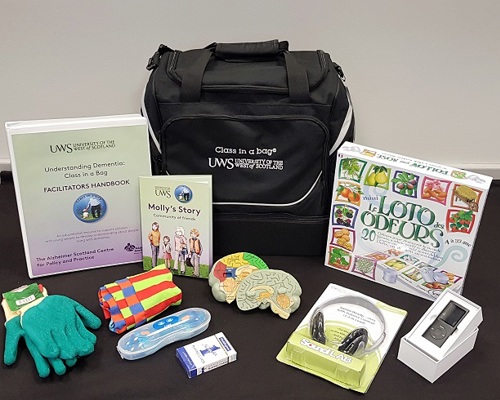 The Schools and Educational Organisations resource is suitable for children and young people who may be in primary or secondary school education. Facilitators may be classroom teachers, facilitators working in children's organisations or those with experience in delivering dementia focussed training sessions. It is recommended that children of 9 years and upwards may be included in these sessions, however, it is important that the teacher or facilitator carefully considers the suitability of their participants.
To find out more information regarding this resource please visit:
https://shop.uws.ac.uk/product-catalogue/educational-resource
The DOMUS Initiative
The DOMUS provides a highly adapted space an immersive learning environment based on best evidence about design and enablement.
These spaces coupled with our simulated learning approach provides learners with opportunities to experience, with expert support, some of the physical and sensory changes that might be familiar to people with dementia.
The DOMUS includes a homely space, reminiscence, sensory room and a care and hospital environment.
MSc in Gerontology With Dementia Care
The MSc in Gerontology with Dementia Care aims to develop the knowledge, skills and confidence to enable them to lead, plan and deliver person focussed care to people living with dementia particularly in relation to their changing care priorities as dementia advances. It is aimed at an international diverse audience of health, allied health, social care, policy and social work professional.
Dementia Champions
Scotland's National Dementia Champions change agent programme has been developed and delivered in partnership between Alzheimer Scotland and University of the West of Scotland since 2011.
People living with dementia are at the centre of the programme. Participants are recruited by NHS Education and the Scottish Social Services Council and work in a wide range of roles across acute hospital and related settings. These three films celebrate the work of the Champions programme
More Dementia Champions videos here
Research themes
Advanced dementia
Dementia in the workplace
Housing and Dementia
Dementia and prisons
Fundamentals of dementia care
Multiprofessional Dementia education and care skills
Dementia Care in acute hospitals
Dementia and family caring
Sensory and complementary care
Dementia inclusive sport and exercise
Dementia Palliare
Advanced or severe dementia is often associated with end of life care. Current practice, existing care services and approaches to dementia education seem to perpetuate the 'inverse care law' where those who need to the care most receive least. The Palliare project highlights that a more nuanced understanding of advanced dementia is needed with a focus on living rather than dying. If you wish to join the Community of Practice please go to http://dementia.uws.ac.uk/.
Being Home
The first report to bring together housing and dementia. The report included a comprehensive overview of the current housing situation for people affected by dementia including a range of housing options, possible solutions, services and supports. The report was commissioned by the Life Changes Trust and Angus Care and Repair. Key concerns included the lack of joined up policy, insufficient appropriate new housing and a lack of preparation and readiness for future housing needs. The report highlights a range of adaptations, new technologies and best practice that might offer some solutions.
Full report is available here
Summary of report is available here.
Dementia dogs
The aim of the evaluation was to understand the contribution of assistance dogs made to the lives of people with dementia and family carers. The evaluation demonstrated the important role that the dogs played in the support of people living with dementia including improved communication, supporting independence and emotional support. 
Grace Notes
The Grace Notes is an interdisciplinary learning project bringing students from Nursing and music and song writing together with people with dementia. The students pooled their expertise and creative skills to capture stories of individuals whose voice may become lost to others and to turn these stories into songs. The result was six new songs inspired by the real life experiences shared during the workshops. To hear the six Grace Notes songs created click here. The project was awarded the overall winner in the Mental Health Nursing Forum Scotland Awards.
Jenny's diary
Jenny's diary is a resource to support conversation about dementia with people who have a learning disability. To find about more and download the booklet and postcards please go to here. Supporting Derek is a training film to support staff in care homes to understand and to care better for people with dementia and learning difficulties. The film can be accessed at here. 
Dementia in the workplace
Advanced Dementia Care in India
There are four million people living with dementia in India and an urgent need to establish dementia education and care aligned to the Global Sustainable Development Goals.
Advanced dementia within India is a hidden problem, which places individuals and their sometimes-young carers at high risk of poverty and other inequalities. There is an immediate need to develop practical and theoretical understanding among practitioners, policy decision-makers and the public about advanced dementia alongside an understanding of advanced dementia related abuse and abandonment.
This mixed method project has begun to explore the experiences and vulnerabilities of people affected by advanced dementia, to establish the principles to inform culturally sensitive dementia education linked to care.
The project has included community conversations to gauge views on the potential to adapt the UWS-Class in a Bag (CIAB) as a brief educational intervention to accelerate dementia awareness and community /family based dementia care capabilities.
Advanced Dementia Education - Report
Dementia Services and Public Health Data India
Dementia Friendly Walking Football
CENTRE ASSOCIATES AND AFFILIATES
Dr Barbara Sharp, Policy and Practice Consultant, Public Policy, Alzheimer Scotland.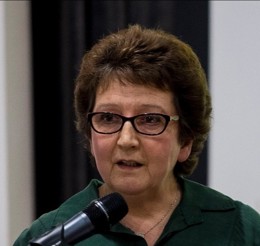 Contact details
Alzheimer Scotland, 81 Oxford Street, Glasgow,G5 9EP
Email: bsharp@alzscot.org, | Phone: +44 141 410 1067 | Mobile: +44 7584 673 967
Expertise
PhD, PG Cert. Research Methods, B.A. (Hons) Lit, RN, RSCN, Lecturer/Practice Educator.
Barbara was a nurse and nurse teacher within the NHS for 18yrs, specialising in the care of older people prior to joining Alzheimer Scotland in 1990, where she has held a range of practice, policy and development roles. She has worked in close collaboration with the Alzheimer Scotland Centre for Policy and Practice (ASCPP) at UWS since its inception and is part of the National Dementia Champions teaching team. Barbara works closely with the national network of Alzheimer Scotland Dementia Nurse Consultants across all Scottish Health Boards. Her key research interest is in the role of stress in dementia. Barbara is currently leading on the partnership development between Alzheimer Scotland and ASCPP of an International Centre for Dementia Practice and Technology.
Henry Simmons, Chief Executive, Alzheimer Scotland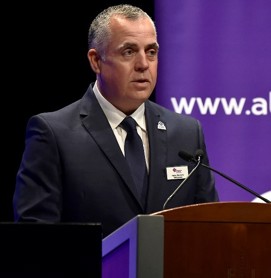 Contact details 
Alzheimer Scotland,160 Dundee street, Edinburgh, EH11 1DQ
Email:hsimmons@alzscot.org | Phone:  +44 131 243 1453 
Expertise
Henry Simmons joined Alzheimer Scotland as Chief Executive in August 2008. He is a registered Social Worker, RMN and has an MBA.
Henry has over twenty years' experience in the health and social care sector and has spent the majority of his career in the voluntary sector, primarily involved in developing new community-based person-centred services.
Henry has worked in both the learning disability and mental health fields. He was a Board Member of Alzheimer Europe for several years and is a General Member of the Mental Health Tribunal for Scotland. He is also chair of the NHS NES/SSSC Dementia Programme Board and currently a member of the Fair Work Convention.
Recently, Henry has been fortunate to be awarded Honorary Doctorates from both Queen Margaret University and Glasgow Caledonian University.
Hugh Masters, Policy Consultant, Public Policy, Alzheimer Scotland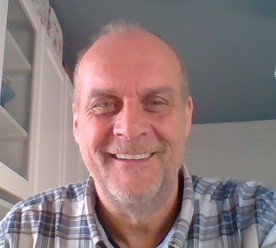 Contact details
Alzheimer Scotland, 160 Dundee street, Edinburgh, EH11 1DQ.
Email: hmasters@alzscot.org | Phone: +44 131 243 1453
Expertise
Hugh has over three decades of experience working across professional practice, education and policy in a number of leadership roles, most recently in the Scottish Government from 2009 to 2018 as Nursing Officer for mental health nursing and Associate Chief Nursing Officer. His key responsibilities were in nursing education, workforce, mental health and learning disabilities. He led the work, on behalf of the CNO, to develop a programme of hospital inspections for older people and to deliver the commitments in the three dementia strategies on general hospital care and latterly specialist dementia care settings. Since August 2018, he has acted as a Policy Consultant to Alzheimer Scotland in the area of hospital care, working closely with the Alzheimer Scotland Nurse Consultant group. In his spare time he is a tennis referee, coach and increasingly average player; motorcyclist; dog lover, and grandchild minder.
Jim Pearson, Director of Policy and Research Alzheimer Scotland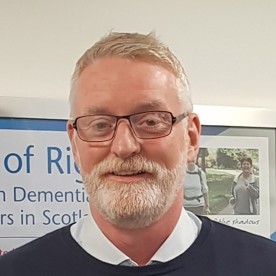 Contact details
Alzheimer Scotland, 81 Oxford Street, Glasgow, G5 9EP.
Email: jpearson@alzscot.org | Phone: +44 7931148478
Expertise
MBA
Jim is Alzheimer Scotland's Director of Policy & Research. He leads the organisation's public policy development, campaigning activities and engagement in dementia research. He is responsible for working with key stakeholders to ensure that the commitments of Scotland's National Dementia Strategies are delivered at local and individual level. Jim is also responsible for Alzheimer Scotland's national and local involvement networks which ensure that people with dementia and carers have an effective voice to inform the work of Alzheimer Scotland and to influence dementia policy, practice and research nationally and locally. Jim is also a member of the Alzheimer Europe Board of Directors.
Joyce Gray, Deputy Director Development, Development, Alzheimer Scotland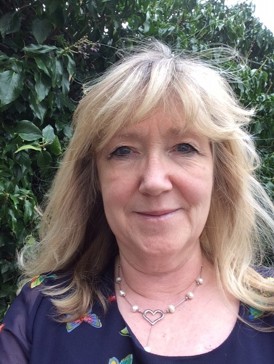 Contact details
Alzheimer Scotland, Kilmarnock Dementia Resource Centre, 8-12 College Wynd, Kilmarnock, KA1 1HN
Email: jgray@alzscot.org | Phone: +44 141 410 1065 | Mobile: +44 7899 951 616
Expertise
Joyce joined Alzheimer Scotland in January 2010 as Deputy Director of Development and leads on major projects that have attracted international interest e.g. Dementia Dog. Joyce has a BA in Business and Enterprise and CIPD Diploma in Training Management, in addition to over 30 years' experience in the health and social care sector.
She started her career as a Psychiatric Nurse but had the opportunity to join the voluntary sector in the early nineties and has since worked with young people excluded from main stream education, managed Carers Centres where she developed one of the first young carers services in the Scotland. Also, before joining Alzheimer Scotland she worked on developing new and innovative services for people with learning disabilities.
In her current role she drives the design innovation programme at Alzheimer Scotland pioneering the use of creativity to help build collaborative user driven service innovation.
Gillian Anderson, Digital Lead, Development, Alzheimer Scotland
Contact details
Alzheimer Scotland, Kilmarnock Dementia Resource Centre, 8-12 College Wynd, Kilmarnock, KA1 1HN
Email: ganderson@alzscot.org | Phone: +44 7876 790 864
Charlotte Swarbrick, Digital Lead, Development, Alzheimer Scotland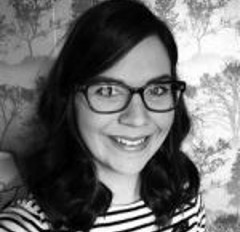 Contact details
Alzheimer Scotland, Kilmarnock Dementia Resource Centre, 8-12 College Wynd, Kilmarnock, KA1 1HN
Email: cswarbrick@alzscot.org | Phone: +44 7880 002770
Expertise
Having originally trained and qualified as an Allied Health Professional, Charlotte went on to leave the NHS clinical world as a Diagnostic Radiographer, to pursue career advancement within the evolving health and social care field. Steadily working across multiple sectors in a variety of roles, still armed with her practitioner mindset and unwavering desire to advocate, Charlotte's passion and aptitude for innovation and development emerged. In her current role as National Digital Lead within Alzheimer Scotland, she works alongside her team to explore pioneering approaches to support people living with dementia and their carers, using technology and digital solutions. Her main work stream within the team is delivery - developing first class learning pathways to ensure digitally-enabled, emerging citizen-centred best practice is demonstrated by practitioners locally, nationally and internationally.
Elaine Hunter, National Allied Health Professionals Consultant, Alzheimer Scotland
Contact details
Alzheimer Scotland, 160 Dundee street, Edinburgh, EH11 1DQ.
Email: ehunter@alzscot.org  | Phone: +44 131 243 1499  | Mobile: +44 7765 565 853
Alison McKean, Allied Health Professions Post Diagnostic Lead, Alzheimer Scotland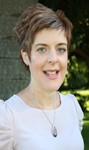 Contact details
Alzheimer Scotland, 160 Dundee street, Edinburgh, EH11 1DQ.
Email: amckean@alzscot.org  | Phone: +44 131 243 1453
Expertise
BSc.
Alison graduated in Occupational Therapy in 2000. She has over 18 years of experience working in the field of dementia and mental health in the National Health Service, she was Dementia Lead within her Service for many years.
Alison's national leadership role with Alzheimer Scotland focuses on enhancing access to the skills of the Allied Health Professionals in the post diagnostic period (as per Ambition One of Scotland's AHP dementia policy, Connecting People, Connecting Support).
Alison is passionate about improvements in dementia care and is a graduate of the Scottish Quality and Safety Fellowship (cohort 9).
Jan Beattie, Deputy Director of Workforce, Quality and Workforce Development, Alzheimer Scotland

Contact details
Alzheimer Scotland, 81 Oxford Street, Glasgow, G5 9EP.
Email: jbeattie@alzscot.org | Phone: +44 1414101064 | Mobile: +44 7468 700 980
Expertise
BA (Hons) Applied Social Science: Dip SW
Jan brings a background in social work and community development to Alzheimer Scotland where she leads workforce development. Jan's workstreams include ensuring everyone who works for Alzheimer Scotland accesses appropriate level Promoting Excellence Framework learning, facilitating communities of practice to share skills and knowledge and building leadership skills at all practice levels. Before joining Alzheimer Scotland, Jan had her own consultancy practice focussing on participation, partnership development and organisational change.
Susan Rendell, Dementia Learning Agent, Quality and Workforce Development Team, Alzheimer Scotland. No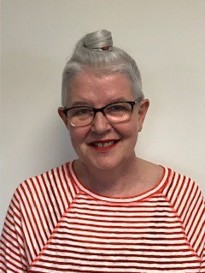 Contact details
Alzheimer Scotland, 81 Oxford Street, Glasgow, G5 9EP.
Email: srendell@alzscot.org  | Phone: +44 1414101178 | Mobile +44 7917 849193
Expertise
Susan is the Dementia Learning Agent for external training for Alzheimer Scotland and has held a range of roles. Specifically working as a Young Onset Dementia Link Worker for 6 years delivering Post Diagnostic Support within the community for individuals and their families with a diagnosis of Young Onset dementia. An area of interest for Susan is rarer dementias and looking at innovative ways to provide a platform for people with dementia and their families to ensure that their voices are heard within delivery of training.
Dr Shelley Peacock, Associate Professor, University of Saskatchewan
Expertise
Dr Peacock's previous clinical practice and current research interests are focused on supporting persons with dementia and their family caregivers, particularly at the end of life and into bereavement.
Her master of nursing degree (University of Saskatchewan, 2003) was a systematic review of interventions to support family caregivers to persons with dementia, and her PhD (University of Alberta, 2011) research was a phenomenology on the experience of providing end-of-life care to a relative with advanced dementia.
She actively participates in several research projects with colleagues from Saskatchewan, Alberta, Ontario, and Scotland. She has received a Saskatchewan Health Research Foundation Establishment Grant (2014 - 2018) to adapt a self-administered bereavement tool to the dementia-context. Recent interests have expanded to explore the delivery of dementia care in correctional settings. Shelley teaches fundamental assessment and clinical skills in undergraduate courses in the BSN and PDBSN programs of the college. Also, Shelley supervises and is a committee member for many graduate students in nursing and psychology.
Research Interests
Dementia
Family caregiving
Older adults
Dr Stuart Wood, MBE, Music and Health Researcher
Expertise
Dr Wood is a music therapist, music therapy supervisor and researcher. He has 20 years' experience as a music therapist in a wide variety of settings, and a growing track record of doctoral supervision, research methods teaching and music therapy input. He presents frequently in national and international contexts, on music therapy and aspects of medical humanities. His research interests focus on aesthetics of care, using innovative methods from musicology and drama to explore everyday life situations.
He has a creative and innovative approach to providing music therapy within healthcare, education and social care, and provides a wide range of music therapy and Arts in Health services, including music therapy, consultancy, expert reports, supervision and corporate masterclasses / workshops. His training programme, Aeriel, was launched in August 2018.
In 2017 he was awarded an MBE for services to music therapy and care.
Winnie McGarry, Lecturer, UWS
More information to appear here soon
Wendy Wight, Lecturer, UWS
More information to appear here soon
Caroline McCallum, Lecturer, UWS
More information to appear here soon
Alison Toner, Lecturer, UWS
More information to appear here soon
Last updated: 27/03/2020