Research themes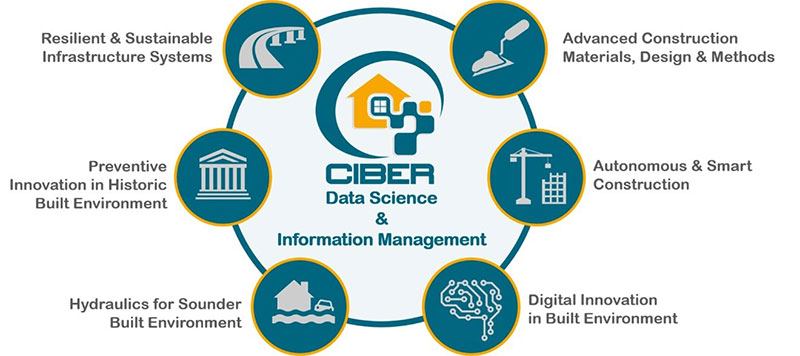 Research themes in CIBER are cored by ground breaking Data Science and Information Management (e.g., experimental data, big data analytics, artificial intelligence) to bolster world-leading transdisciplinary research and innovation in built environment.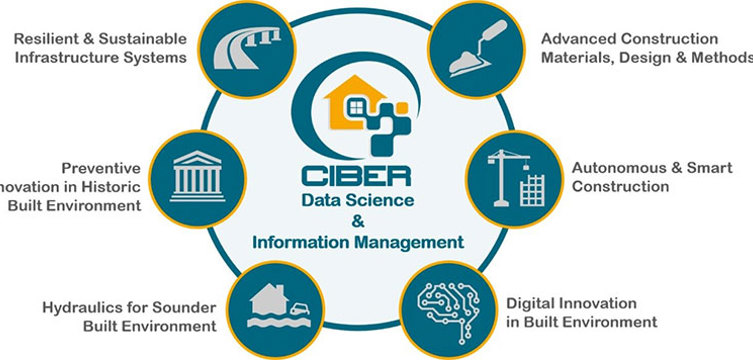 SRC 1: Advanced Construction Materials, Design & Methods
Self-compacting concrete and special concretes
Use of waste and recycled materials in construction
Nanotechnology in construction
Advanced structural analysis and design
SRC 2: Autonomous & Smart Construction
3D printing
Construction robotics
Construction Internet of Things (IoT)
Nanosecond Procurement
Digital/Virtual twins
SRC 3: Digital Innovation in Built Environment
Building Information Modelling (BIM) and management
Immersive Technologies - Augmented Reality (VR), Virtual Reality (VR) and Mixed Reality (MR)
Integrated approach of laser scanning to other digital technologies (e.g., BIM, AR, VR)
SRC 4: Hydraulics for Sounder Built Environment
Pipe and open channel hydraulics
Flood protection and mitigation
Rehabilitation of surface water bodies
SRC 5: Preventive Innovation in Historic Built Environment
Material characterisation of historic buildings
Transformative adaptation of cultural heritage to climate change
Visual assessment, repair and maintenance strategies for historic buildings
SRC 6: Resilient & Sustainable Infrastructure Systems
5G network applications to transport infrastructure systems
Sustainability through Life Cycle Cost Analysis (LCCA), Life Cycle Assessment (LCA) and climate change impacts (e.g., carbon footprint)
Roadway pavement improvement strategies
Mobility and safety impact predictions during construction
Key projects
Konanahalli, A. & Oyedele, L, Marinelli, M., Selim, G., (2018) Big Data:

A new revolution in the UK Facilities Management Sector. Strategic Report for Royal Institution of Chartered Surveyor's (RICS) Research Trust Report.


BALI – Built Asset Lifecycle Intelligence:

£100k InnovateUK feasibility study to develop a digital ecosystem for management of built assets through life (2016-2017; Prof Milan Radosavljevic).


Associate members - UWS staff
External affiliate members
Name: Dr Tahir Hanif
Position: Project Controls Manager, BlueVision, Abu Dhabi
Name: Dr Mohamed El-Haram
Position: Whole Life Consultants Limited Dundee
Name: Mr Mohammed Shah
Position: Transportation, Calderdale Council
Name: Mr Gordon Mitchell
Position: CIO, Key FM
Name: Professor John Bennett
Position: Emeritus Professor
Name: Professor Llewellyn Tang
Position: University of Hong Kong
Knowledge Transfer Partnership (KTP) Associates and Post-Doctoral Researchers
Post-Doctoral Researcher & PhD students
Name: Gideon Ayim-Mensah
Position: PhD Student
Email: Gideon.Ayim-Mensah@uws.ac.uk
Name: Salem Al Mazrouei
Position: PhD Student
Name:  Evgeny Exter
Position: PhD Student
Name:  Kevin Reutner
Position: PhD Student
Current Projects
Project Type /Scheme - Knowledge Transfer Partnership
Project Title - Digital twin for Autonomous Facilities Management (2019-22, £266,000)
Partners / Funders - 

Project Type /Scheme - Knowledge Transfer Partnership
Project Title - BRS Technology Limited: Air Quality Monitoring using IoT and Machine Learning (2019-22, £184,000)
Partners / Funders - 

Publications and Activities
Associated research degree
Name of degree: MSc Civil Engineering
The MSc in Civil Engineering is a unique UK postgraduate taught programme that draws upon the research strengths of the University of The West of Scotland in Civil Engineering and other engineering disciplines. It offers an advanced qualification to engineering graduates wishing to progress their career and develop an in-depth and practical understanding of Civil Engineering in the provision of sustainable and resilient civil engineering solutions for the built environment.
Last updated: 30/10/2018