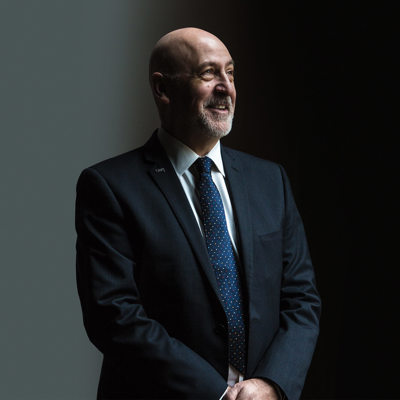 Executive Group
Professor Craig Mahoney
Principal and Vice-Chancellor
Career Overview
A chartered psychologist and an Associate Fellow of the British Psychological Society, Principal and Vice-Chancellor, Professor Craig Mahoney, is an internationally recognised sport psychologist. Prior to joining UWS, he was Chief Executive of the Higher Education Academy and has been Deputy Vice-Chancellor at Northumbria University and Dean of the School of Sport, Performing Arts and Leisure at Wolverhampton University. He is also a former semi-professional squash player and has coached and managed squash teams in Australia, Sweden and Ireland, as well as being a qualified squash referee.
A graduate of Chemistry and Maths from the Tasmanian College of Advanced Education (now the University of Tasmania), Professor Mahoney holds a Masters degree from the University of Birmingham and a Doctor of Philosophy (Psychology) from the Queen's University Belfast. Craig has published widely in the areas of children's fitness, health, sport, exercise, performance and education. He has strong views on, and a real passion for, differentiated, student-centred learning, teaching excellence, internationalisation and research-informed teaching.
As a sports psychologist, Professor Mahoney worked with athletes at World, Olympic and Commonwealth levels and was an adviser to UEFA and FIFA on psychology in officiating for many years. As a practicing academic, Craig still publishes, is involved in teaching and acts as an External Examiner in his area of professional expertise. Craig's experience and willingness to give something back, has been harnessed in range of sectors including Universities Scotland, SportScotland, the Leadership Foundation for Higher Education Board, the Quality Assurance Agency Board, Glasgow City of Science Board and the Carnegie Trust for Universities of Scotland.
As an international squash professional, Craig Mahoney displayed a real drive and determination. But he was also a passionate believer in the power of education to transform lives and Craig has displayed the same tenacity in working to build UWS into one of the country's top-performing universities as he did on the squash court. At the helm of UWS since August 2013, Professor Mahoney has firmly focused UWS on the student experience, academic quality and global engagement. He has also harnessed his diverse experiences as an academic, a leading sports psychologist and an international sportsman to help UWS develop and grow. Craig has developed a compelling Corporate Strategy, which has enabled UWS to reap the benefits of the changes he has made to the University and continues to strive towards securing UWS' place as a first choice university for high quality students from the UK and overseas.
Executive Advisor – Jo Durham, 0141 849 4212, jo.durham@uws.ac.uk
Personal Assistant – Lauren Harris, 0141 848 3208, lauren.harris@uws.ac.uk
Vice-Chancellor's Salary
Professor Craig Mahoney assumed the role of Vice-Chancellor at University of the West of Scotland in August 2013.
The Vice-Chancellor's salary is reported annually in the University's financial statements.
In the interests of transparency, the Vice-Chancellor has made the details of his salary available and estimated employer's pension contribution for the year covering August 2019 – July 2020.
Salary: £235,503
Employer's contribution to pension: £37,727.99
Total: £273,230.99