Louise Jackson was working full-time before many of her peers had even finished their training.
UWS is one of only a few universities in Scotland to offer a degree accredited by the Institute of Biomedical Science (IBMS) - our BSc (Hons) Applied Biomedical Science programme. "This was one of the main reasons I chose UWS," says Louise, "if the course hadn't been accredited, I'd have faced another round of assessments once I graduated."
As it was, Louise was already working for the NHS by the time she collected her degree. "I'm involved in everything from routine blood tests to life-saving blood transfusions – we work to ensure blood and blood products are compatible for issue to patients."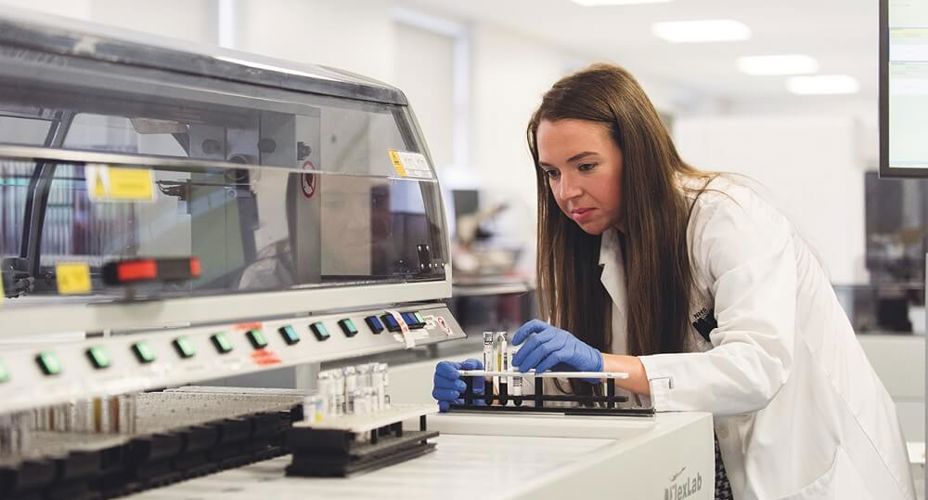 It's a role she loves, but one she might have missed out on if it weren't for her third-year placement. She was one of only ten students to earn a place in a Greater Glasgow and Clyde NHS laboratory. Here, she had the opportunity to complete her training portfolio – a prerequisite for anyone wanting to work in biomedical science.
Louise now can't imagine working in any other field, but that wasn't always the case. Thankfully, the course covered all aspects of biomedical science, starting with broad concepts before drilling down into more specific disciplines – something she says helped her choose her specialism.
Since that day, she's never looked back. "We may not be the most visible department in the hospital, but without our work the doctors and nurses couldn't do what they do. It's a really rewarding career."
And it's a career that continues to reach new heights. Louise has recently successfully obtained the IBMS Specialist Diploma in Haematology and Hospital Transfusion Practice and has returned to UWS to study for a Masters in Advanced Biomedical Science.
"Since that day, she's never looked back. "We may not be the most visible department in the hospital, but without our work the doctors and nurses couldn't do what they do. It's a really rewarding career."
Louise Jackson
Last updated: 03/12/2018