AYR CAMPUS ACCOMMODATION
Applications are now open for 2023/24
Our team of Resident Assistants are on site 24 hours, 7 days a week providing residents with a safe environment to live, learn and relax. The Resident Assistants are responsible for organising the social events calendar with activities planned throughout the year to help residents integrate, socialise and make new friends.
IT IS IMPERATIVE THAT YOU DO NOT ARRIVE AT A UWS RESIDENCE WITHOUT A CONFIRMED LEASE AGREEMENT.
UWS Ayr residence offers a high standard of accommodation at competitive prices:
En-suite study bedroom costs £118.00 per week for 2023/24 session
Studio Flats cost £170.00 per week for the 2023/24 session
Our accommodation price list provides the full range of prices. We have options to pay in full or set up a payment plan to meet the costs of accommodation.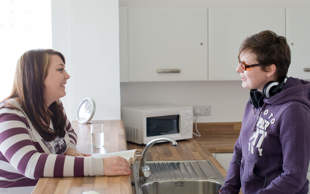 UWS Ayr Residences provides you with everything you need to get quickly settled into your new home.  Shared kitchens are equipped with:
Oven and hob / fridge and freezer / microwave / kettle
Iron and Ironing board / vacuum cleaner
Mop and bucket / dustpan, brush and sweeping brush
Why not take the hassle of buying and transporting your bedding and kitchen items by pre-ordering them with our partners UniKitOut? All you need to do is to click on "Shop Now", choose the items you want, select your residence, then confirm and pay for your items.
The pack will then be delivered directly to your halls of residence so it's ready and waiting when you arrive. Don't forget to use discount code UWS10 to save 10% off everything on the website!
Each private en-suite bedroom includes:
Bedframe and mattress
Large workspace with sockets
Wardrobe and storage space
En-suite shower room
Apply for Ayr Accommodation
APPLICATIONS FOR 2023/24
Applications for the 2023/24 session are now open.
Find full details of the 2023/24 Student Residences payment plan below.
Last updated: 01/09/2023
Address & Contact details
UWS Ayr Campus
University Avenue
Ayr
KA8 0SX
Campus Tel: +44 (0)1292 886000
Student residences
Residences Tel: +44 (0) 1292886316
Email: accommodation@uws.ac.uk