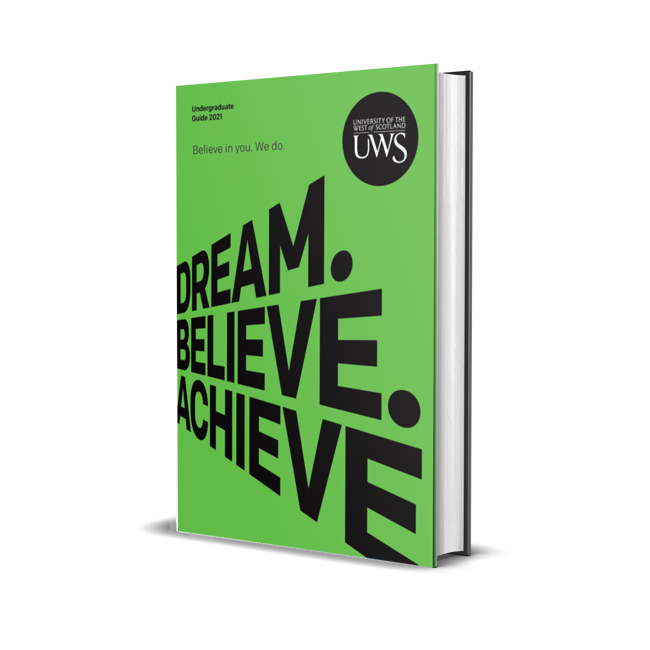 Create a personalised digital prospectus
Our prospectuses have gone digital! Just provide a few details and in a matter of moments you'll get access to your personalised downloadable prospectus packed with the information that matters most to you. No filler. No jargon. Just your UWS. Your way.
Making a Difference
University of the West of Scotland aims to have a transformational influence on the economic, social and cultural development of the west of Scotland and beyond.
UWS is officially recognised by Times Higher Education in the top 600 of universities worldwide (2022 World University Rankings) and in the top 150 of universities worldwide under 50 years old (2022 Young University Rankings).
The Times/The Sunday Times Good University Guide 2022 ranked us as second in the UK for social inclusion and as a top 100 UK university for teaching quality, research quality and graduate prospects. We rate highly for teaching quality and student experience in the following areas:
Aeronautical & Manufacturing Engineering, Mechanical Engineering
Biological Sciences, Chemistry
Subjects allied to medicine
Education, Childhood and Youth Studies
Communication & Media
UWS is officially recognised by Times Higher Education in the top 200 of universities worldwide (2022 Impact Rankings) as assessed against United Nations' Sustainable Development Goals (SDGs).
95%
of UWS undergraduates in work or further study within 6 months of graduation (DLHE 2016/17)
97%
of UWS postgraduates in work or further study within 6 months of graduation (DLHE 2016/17)
Study with us
As a UWS graduate you will be work-ready and contribute locally and globally.
At UWS your learning and teaching experience will be student-centred, personalised and distinctive, preparing you for a rewarding future. Our cutting edge courses, practical knowledge and intelligent teaching are focused on helping you get ahead. 94% of UWS graduates are in work or further study 6 months after graduating (HESA Performance Indicator 2015/16). 
Find out more about our full-time or part-time undergraduate, post-graduate and post-experience study options at our forthcoming Open Days.
International
A global outlook
Across the UWS campuses in the West of Scotland and in London there are around 17,000 students from more than 70 countries worldwide. A global outlook is embedded in all of our courses, teaching and research activities. UWS has 130 EU partners and a growing number across the world, including links with over 40 institutions in China.
With teaching by staff who have experience with national and international organisations, input from industry experts and growing recognition of UWS research activities, your learning will be shaped by those working at the forefront of their professions.
Find out more about our career-focused undergraduate, postgraduate and research degrees as well as funding options including scholarships.
University Life
Across our four campuses in the West of Scotland - in Paisley, Lanarkshire, Dumfries and Ayr - and our campus in London enjoy access to a wide range of social, leisure and academic facilities to make the most of your time at UWS.
More on University Life
Vice-Chancellor's Studentship Scheme 2022
Under the UWS Vice-Chancellor's Studentship Scheme 2022, sixteen funded PhD studentships are being offered for October 2022 start. These highly selective studentships span the University's four academic schools and are aligned with the ambitions of UWS Strategy 2025.
FIND OUT MORE ABOUT THESE STUDENTSHIPS
UWS CORONAVIRUS UPDATES
This section is used for updates on UWS's response to Government guidance to ensure that we all act as safely as we can with coronavirus (Covid-19) around and to ensure that you we are implementing measures to maintain your safety on campus.
Click here for COVID updates
Student Information Portal
For detailed information to either help you prepare for your studies at UWS, or to help you as you continue your studies with us - as well as a host of other important information.
Student Information Portal