UWS Lanarkshire Campus
We've invested £110m to create a truly innovative, dynamic and collaborative new university campus. Hosting inspiring and flexible learning and teaching spaces packed with rich technology to give staff and students access to some of the most modern university facilities in the UK.
With state-of-the art gym, health and fitness facilities UWS Lanarkshire Campus is also one of the UK's greenest educational environments, powered by 100% renewable energy.
Wherever you are on the campus, you'll always be connected. From campus-wide Wi-Fi, device charging points across the campus and a range of exciting social spaces to connect with fellow students and colleagues.
Located in one of Scotland's most successful business parks, Hamilton International Technology Park, UWS Lanarkshire Campus seamlessly integrates industry and academia and allows for mutually beneficial partnerships between students, staff and local businesses.
Ultra-Modern
Discover the future of learning at UWS Lanarkshire Campus, Scotland's brand new ultra-modern university campus.
The £110m campus embodies the UWS vision to provide 21st century, student-centred, personalised, distinctive learning and teaching experiences. With its technology-rich, innovative learning and social spaces UWS Lanarkshire is at the forefront of modern learning environments, significantly enriching the educational journey of our students.
Innovative learning suites provide high-tech, flexible and collaborative spaces to deliver teaching in a powerfully effective and modern way. The campus represents a shift in the way learning and teaching is defined in the higher education sector in Scotland and across the UK. Thanks to the new campus and its flexible and collaborative spaces specifically designed to equip students with the skills most valuable to industry, students will graduate having experienced ground-breaking learning, putting them at a significant advantage as they embark on their chosen careers.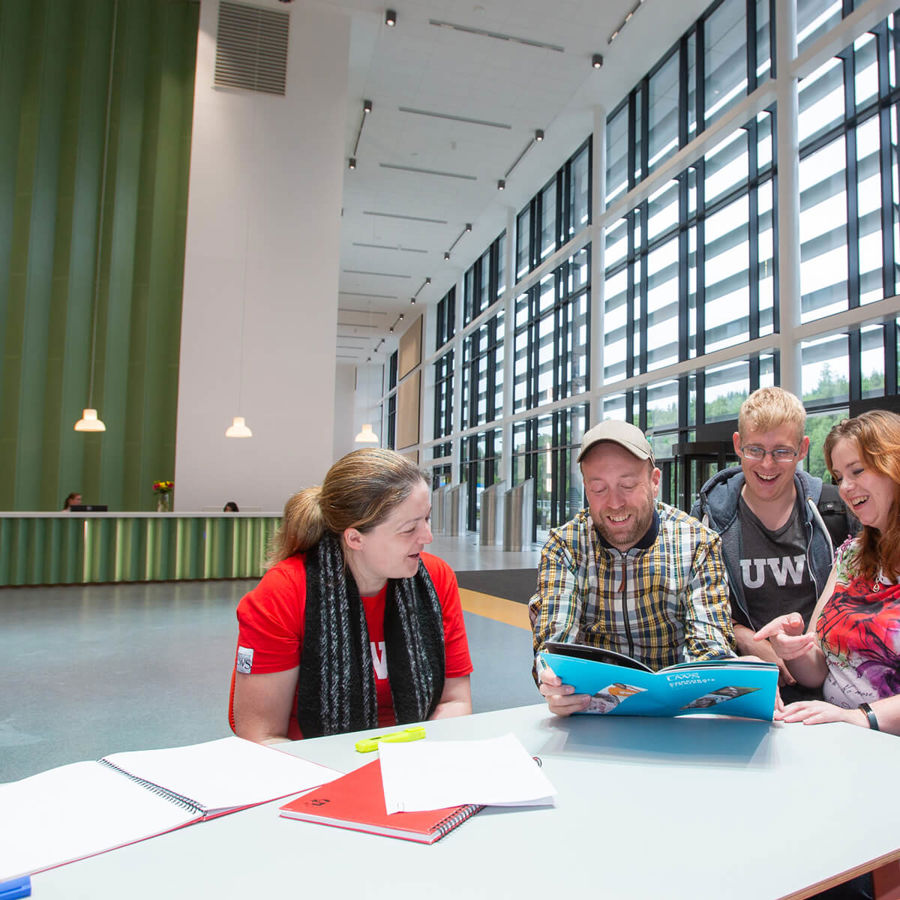 The Street
Collaborative
UWS Lanarkshire Campus is the place to collaborate.
The UWS Lanarkshire campus promotes enhanced collaboration 24/7 and supports continuous innovation between students, staff, and academics and outside organisations thanks to its flexible learning environments. The design reflects the UWS belief in the transformative power of co-created learning. Every space offers an area to learn and collaborate, with a range of facilities to choose from to support students in their studies. The spaces have been specifically designed to equip students with the skills most desired by industry, including collaboration, creativity and communication, meaning students graduate having experienced ground-breaking learning, putting them at a significant advantage as they embark on their chosen career.
The three campus buildings are joined by "The Street" – a bright and airy work and social space for students, staff and the local community.
Students are benefiting from the chance to work closely with more than 80 local, national and international businesses, offering practical opportunities to gain experience during their university career. Businesses on Hamilton International Park have the opportunity to collaborate with the University on a range of research, enterprise and commercialisation activities.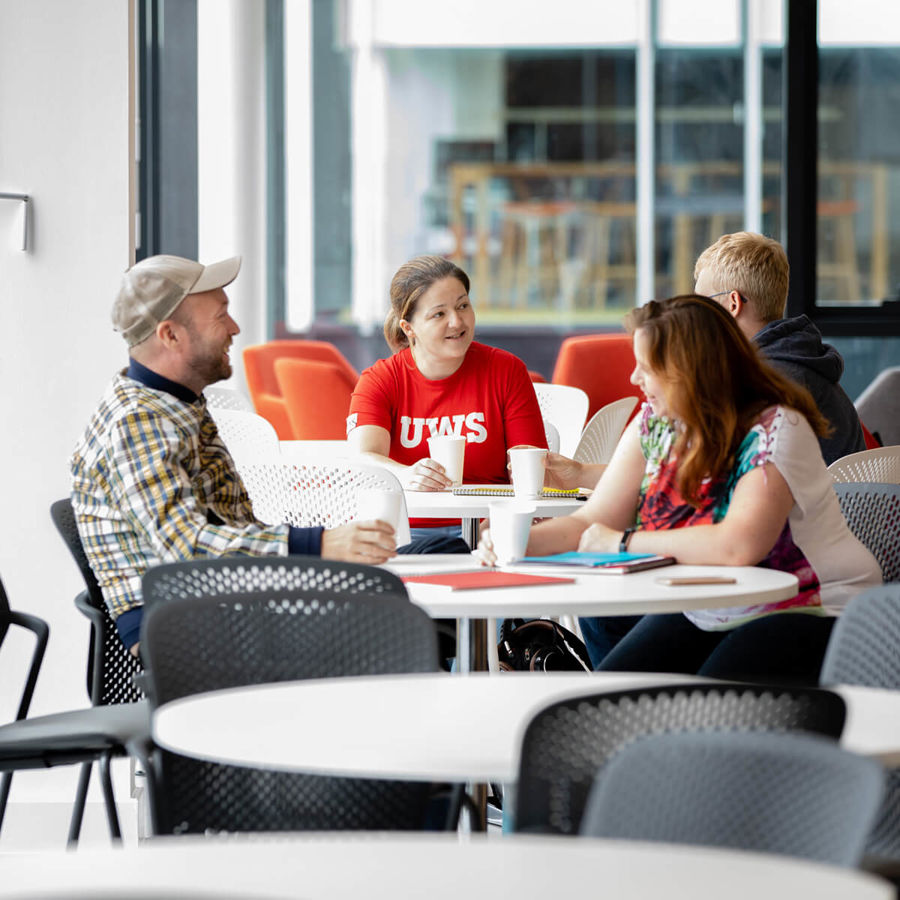 Collaborative environment
Sustainability
One of the UK's greenest universities.
The UWS Lanarkshire campus is a sustainable space for sustainable minds and is one of the UK's greenest educational environments. It's an energy neutral development, powered by 100% renewable energy from a nearby windfarm, UWS Lanarkshire benefits from a range of important environmental features, including rainwater harvesting technology, back-up, on-site photovoltaic panels, a building management system, electric car charging points and even compostable cutlery.
Student and staff welfare is at the heart of the campus with excellent health, fitness and wellbeing facilities provided within a state-of-the-art gym, which, as well as being open to students and staff, is also be available for use by the local community and businesses based in the Hamilton International Park. After a work-out or a study session, our modern restaurant and catering facilities ensure you're re-fuelled and there's plenty of green spaces to meet-up and socialise in, enhancing the sense of community at UWS.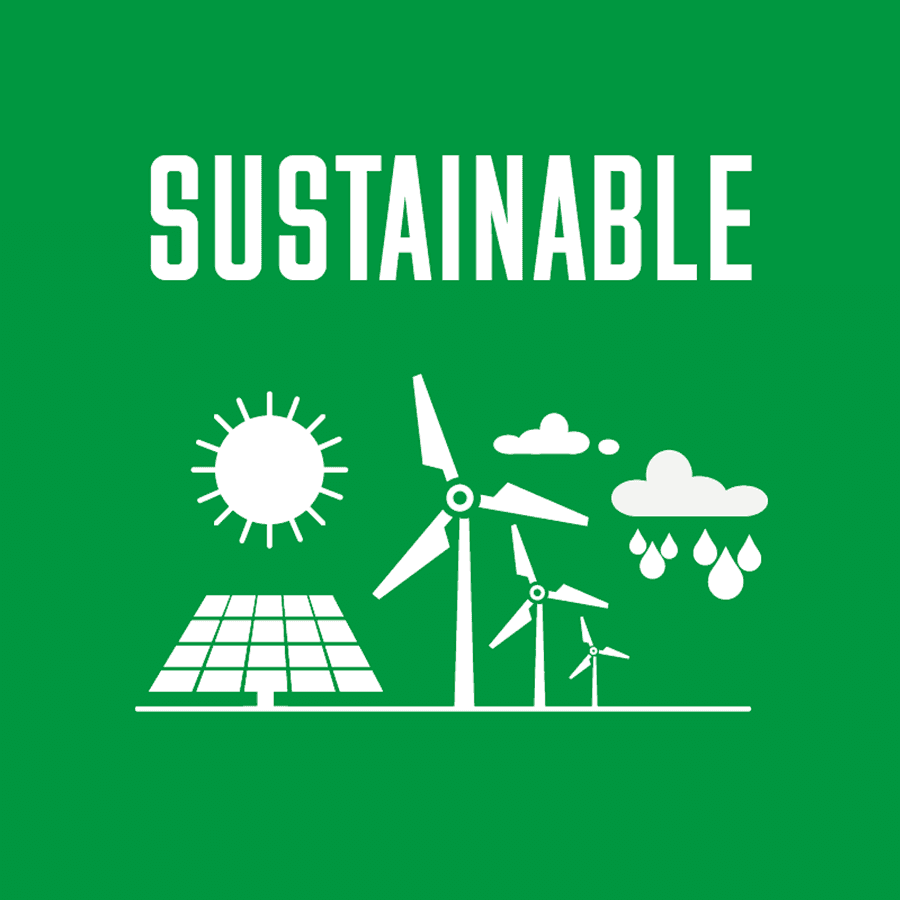 100% Renewable Energy
Connected
At UWS Lanarkshire Campus, wherever you are, you're always connected.
From campus-wide charging stations to powerful, campus-wide Wi-Fi and even Wi-Fi on UWS-branded buses, you won't lose connection. Thanks to our partnership with First Bus there's a direct service to and from the university on a regular basis connecting you to all the major travel hubs. The campus is within easy reach of central Scotland's motorway network and there's 1,000 secure car parking spaces available.
Students and staff can stay connected at the many social spaces, including The Hub, The Street or the library, which are one-stop-shops for support and enquiries.
The campus is open 24/7, 365 days a year ensuring access to online resources and services including eBooks and academic journal databases around the clock, so whether you're a night owl or an early bird, you can harness your most productive time of day to get work done.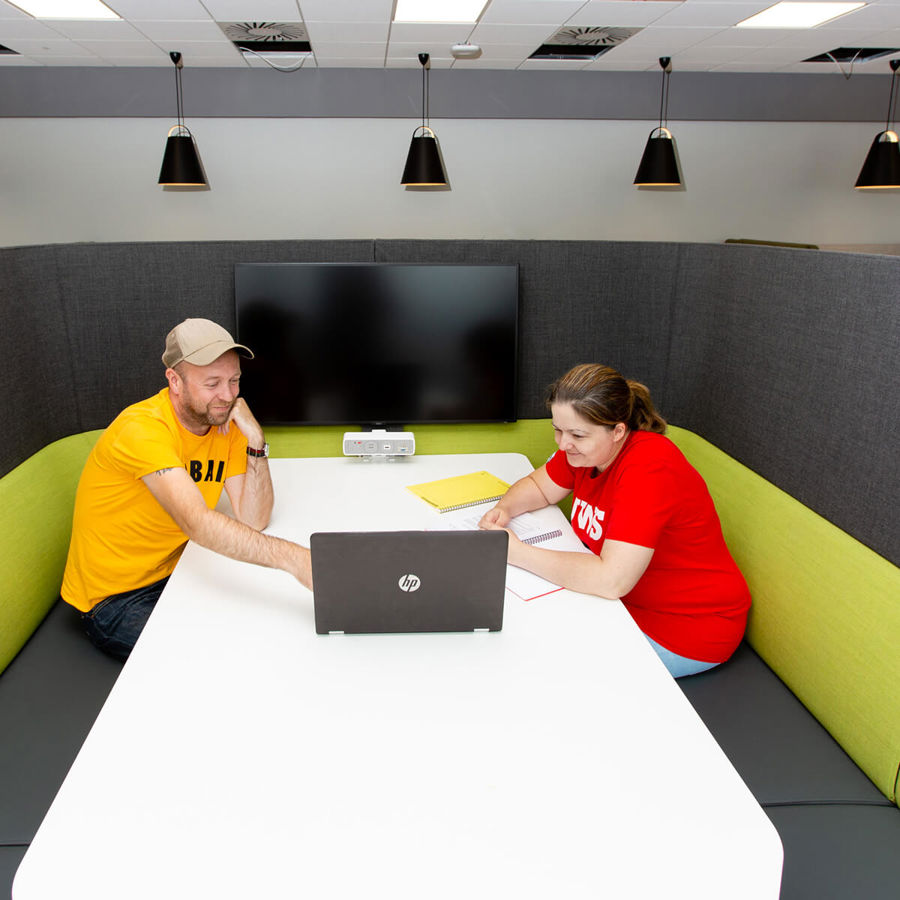 Connected workspaces
Research, Enterprise & Opportunity
UWS Lanarkshire Campus is an innovation powerhouse providing a wealth of research and enterprise opportunities.
Designed with research-driven innovative learning and teaching in mind, its location with enterprise enables seamless collaboration between academia and business and provides a talent-rich pipeline of work-ready, industry-focused and highly talented students right on their doorstep.
The campus offers first-class research and development opportunities, and hosts Scotland's newest simulated nursing and midwifery teaching environment as well as Scotland's highest-specification environmental chamber – one of only two in the country and the only one in the West of Scotland. The chamber will replicate environmental extremes for athletes.
UWS invites businesses to come and use its first-class facilities, including a 236-capacity auditorium, 38-60 capacity executive boardroom, 128-capacity conference space and an executive lounge.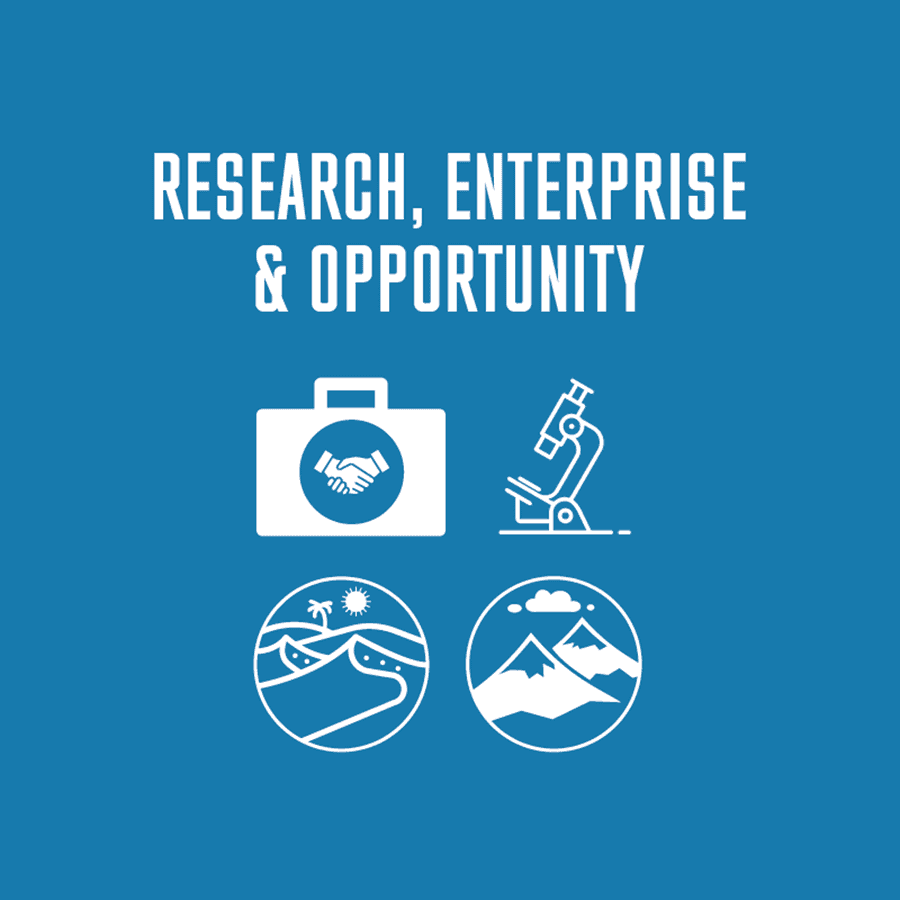 State-of-the-art facilities
Learn & Relax
Our community focused campus will be a hub of activity centred around the vibrant Street atrium. The well-designed social spaces across the campus provides the ideal environment for students, staff and the wider public to study, relax, meet friends, grab a coffee or simply 'hang out'.
Nursing & midwifery laboratories
Skills lab facilities will enable students to learn and practice in a realistic health setting. Top of the range software will create simulated clinical wards and birthing suites. Students will also learn in the virtual reality suite giving a 360 degree perspective of hospital and health settings.
Life sciences laboratories
Our state-of-the-art facilities include technology-enhanced bioscience teaching labs, specialised zoology laboratory facilities and a microbiology suite. 
Cutting-edge sport facilities
Specialist equipment includes: labs for health and performance, exercise biochemistry, cardiovascular imaging, and biomechanics; plus a physiotherapy suite and sector-leading environmental chamber.
Pre-hospital simulation centre
Offers an excellent range of high fidelity simulation opportunities for healthcare students involved in:
paramedic science
nursing
midwifery
health and social care
The centre allows students to develop clinical skills in a safe environment with the challenges of complex scenarios. The suites recreate indoor and outside settings with the distractions, hazards and complications of real-life situations.
Library
Library facilities will reflect the changing ways students digest and consume information within a modern study environment. An extensive range of books, journals and digital resources will allow students to access information whenever and wherever they need it.
The Street
The three campus buildings are joined by 'The Street' - a bright and airy work and social space for staff and students. The Street includes Exhibition Avenue, a Street Café, Information Points, and comfortable seating to sit and study or catch up with friends or colleagues.
Students' Union
Our lively Students' Union, run by SAUWS (University of the West of Scotland Students' Association) will house social, welfare and advocacy services, and provide a great place to catch up with friends and socialise.
About Lanarkshire
The UWS Lanarkshire Campus is located at Hamilton International Technology Park, approximately two miles from Hamilton and East Kilbride. It is well-served by public transport links and UWS supports and encourages students to make sustainable travel choices for their journey to Lanarkshire Campus wherever possible.
Lanarkshire offers lots to see and do – there are a number of country parks and nature reserves nearby, such as Strathclyde Country Park. The area has first-class sporting and leisure activities, including football, rugby, golf, tennis, ten-pin bowling, swimming and horse riding. Hamilton town centre offers plenty of shopping options as well as a theatre, cinema and a range of bars, nightclubs and restaurants.