Why study sport at UWS? Michael Gallacher is the perfect person to ask that question – he's done it twice! After completing his BSc (Hons) Sport Coaching degree with UWS, Michael says it was a no-brainer to develop his knowledge and practice even further on the University's MSc Sport Coaching programme. And that decision is looking like a masterstroke for his career having just been appointed as Women and Girls' Performance Analyst at Rangers Football Club.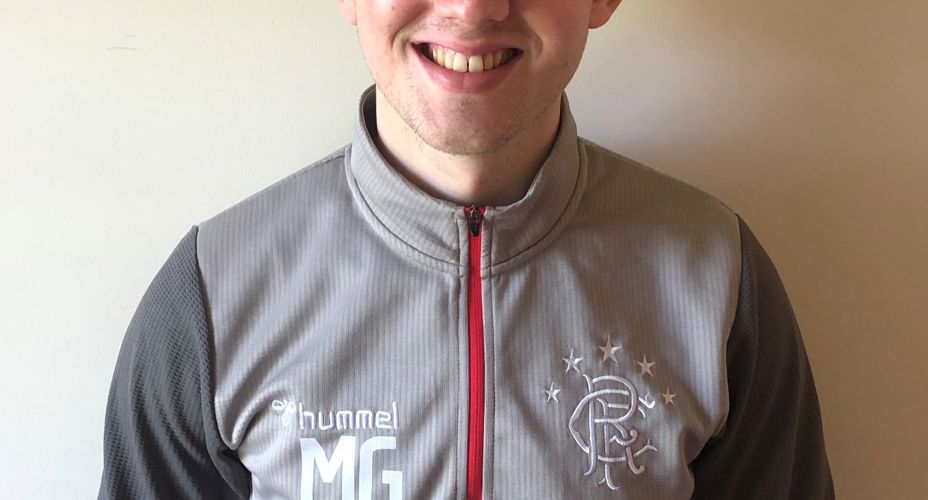 "Having built good relationships with the staff, it was the obvious choice to continue my studies at UWS," says Michael. "The staff are all very much active in their respective fields and this challenges us as students to keep up with the best and latest practices."
Michael also makes special mention of the facilities at the University's new £110 million Lanarkshire Campus as helping prepare him for his career. "The campus in Lanarkshire is world class. The facilities and the learning spaces make it a really enjoyable place to come and work each day and brings the best out in you when studying."
The MSc Sport Coaching is available on a full-time or part-time basis at UWS and Michael chose to take up the part-time option while also developing his career in a performance analysis role, initially at Motherwell FC before making the recent move to Rangers FC. This allows him to take his learning into the workplace throughout his studies and also bring his own experiences from the workplace into the classroom. It is the perfect combination!
You will learn a wide range of new knowledge and skills which can all easily be transferred into your practical work. The staff are very knowledgeable and supportive and come the end of your course you will definitely come out the other end a far better practitioner
Michael Gallacher
"My new role at Rangers involves doing all of the video and statistical analysis for the Women's First Team and overseeing the academy programme doing the same thing," says Michael." He firmly believes that his time at UWS has prepared him perfectly for this dream role. "My professional development has been driven by the reflective nature of the coursework, whereby I will perform in the field and am then then provoked to reflect on my work and the work of others. This then gets scrutinised and challenges me to be better at what I am doing."
So what would Michael say to anyone thinking about undertaking the MSc Sport Coaching at UWS? "You will learn a wide range of new knowledge and skills which can all easily be transferred into your practical work. The staff are very knowledgeable and supportive and come the end of your course you will definitely come out the other end a far better practitioner."
Last updated: 16/04/2020