About REF 2021
"The Research Excellence Framework (REF) is the UK's system for assessing the excellence of research in higher education institutions." (Source: https://www.ref.ac.uk/about/researchuser/)
The main purpose of Research Excellence Framework (REF) is to assess the quality of UK research and inform the selective allocation of core research funding grants to universities by the four UK higher education funding bodies: the Department for Economy, Northern Ireland (DfE), the Higher Education Funding Council for Wales (HEFCW), Research England and the Scottish Funding Council (SFC). The exercise is centred on the work of expert panels who assess research outputs, research environment and research impact.
REF2021 comprises three main elements:
Outputs (60% of the assessment) produced during between 1st January 2014 and 31st December 2020,
Impact (25% of the assessment) that includes case studies of the delivered benefits from our research between 1st August 2013 and 31st July 2020,
Environment (15% of the assessment) with the census period for income between 1st August 2013 and 31st July 2020.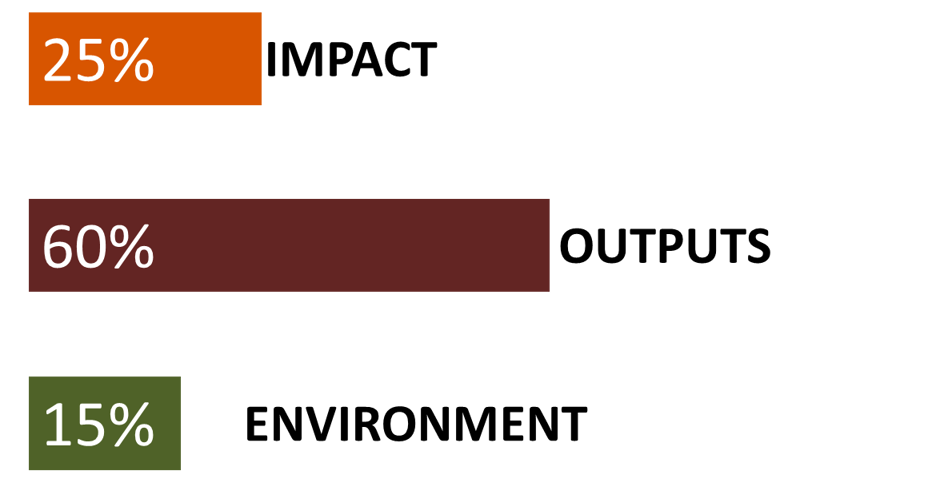 UWS REF 2021 Strategy and Governance
UWS has adopted an approach to REF 2021 preparations that aim to achieve outstanding position in regard to research quality and impact. UWS has begun with REF preparations immediately after the announcement of REF 2014 results with Schools identifying the preliminary set of impact cases.
All institutional arrangements are coordinated through the REF 2021 Strategy Group Chaired by Professor Milan Radosavljevic, Associate Vice-Principal Research & Enterprise and established in Summer 2017, guided by the REF 2021 Strategic Plan, which has been approved by the University's Research & Enterprise Advisory Committee. From June 2018, the strategy group comprises 4 sub-groups, drawing from its membership, academic staff and support departments:
Impact Sub-Group: is tasked to monitor impact development across all academic Schools (including: (1) quarterly calls to gather information on potential impact cases, (2) report on the status of impact and (3) advise teams behind impact cases on how to address identified gaps.
UoA Leads Sub-Group: is tasked to identify potential Units of Assessment (UoA) and UoA Leads and manage UoA readiness in terms of (1) Outputs, (2) Impact and (3) Environment, and therefore includes a member from Impact Sub-Group and Environment Sub-Group.
Environment Sub-Group: is tasked to monitor research environment related statistics, advise Schools on required actions to achieve internationally excellent and supportive research environment.
Code of Practice Sub-Group: is tasked to address REF Guidance on Transparency, Equality and Equity, and through consultation develop the institutional REF 2021 Code of Practice.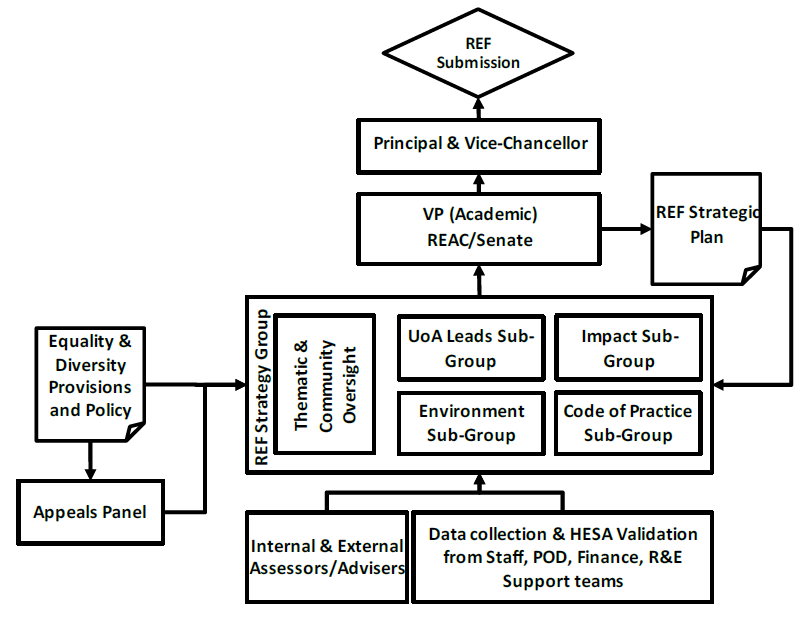 UWS REF 2021 Preparations
The University is committed to support research excellence through a number of ongoing programmes and initiatives, including:
UWS Crucible
Development programme for UWS research leaders of the future.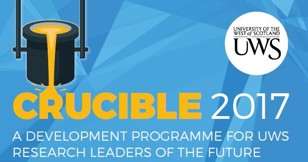 PROPEL programme
The programme aims to develop strategic knowledge exchange partnerships, predominantly as Gold or Silver level partnerships.


REF 2021 Masterclass Series
A series of Masterclasses with a mix of internal and external speakers to address key requirements for outputs, (space) impact and environment.

I Love KTP
The first event took place in 2017 with more than 50 industry participants. We aim to organise "I love KTP" event every 6 months to help significantly increase the number of KTP projects.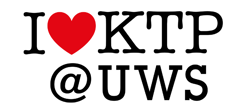 Forthcoming REF 2021 activities
REF Accelerator: To accelerate REF-ability of staff, Research Leaders and UWS Crucible groups will each mentor a group of staff who require support.
Annual PGR Students best paper competition: Scheme that will select the most successful PGR students in terms of the quality of the output published during the academic year. The main prize will include payment of gold open access publication fees.
Code of Practice
You may be aware that the production of an agreed Code of Practice is a condition of participation in REF. The main difference this time is that this is the first time HEIs have had to address the outcomes of Lord Stern's Review of REF2014.  The main issue from Stern is that all staff with a contract of employment of 0.2FTE or greater on the census date (31st July 2020), that is for teaching and research or research only, are considered 'eligible' for the purposes of REF. Where an institution does not want to submit 100% of its 'eligible' staff it must document in a Code of Practice its fair and transparent approach to determining 'staff in scope for submission'. To be in scope for submission staff must have 'significant responsibility for research' and be 'independent researchers'.  The draft Code should be read in this context. Prior to consideration by Senate the draft Code has been scrutinised by the REF Strategy Group and its Code of Practice Sub-Group that contains representatives of the academic staff trade unions. At these meetings a number of points have been made:
Noting that Unit of Assessment (UoA) Leads would have responsibility for recommending the optimum position for submission in each UoA the code should facilitate the preliminary identification of staff 'in scope for submission'.
The code must be the subject of wide consultation with staff, including trade unions, before an agreed version is supplied to the REF team on or before 7th June 2019.
While recognising that inclusivity in terms of staff 'in scope for submission' is a key plank of the Stern Review of REF, the code should allow for a level of discretion on the part of the University to optimise its overall REF 2021 submission. Furthermore, to comply with the need for inclusivity it would be inappropriate to include in the Code a requirement that outputs from any single researcher must achieve a given Grade Point Average via internal or external review for them to be included in a submission.
Stress is being placed on ensuring that issues of equality and diversity are given significant prominence in the Code to ensure that no individuals employed part-time or who are Early Career Researchers and/or with any protected characteristics are disadvantaged.
If you have any questions about the UWS REF2021 Code of Practice or any other aspect of REF2021, email researchservices@uws.ac.uk
First approved in November 2019, the Code of Practice was recently revised to reflect the changes made to the REF guidance due to the Covid-19 pandemic. This revised version has been accepted by Scottish Funding Council/REF on 27th October 2020.
Last updated: 04/11/2020