UWS Asia Website & More
You can also find out more about UWS and our range of career-focused Bachelor, Master's and Doctoral research programmes of study contact us through our dedicated south-east asian website:
You can also find out more about our dedicated UWS Community Mini Programme by scanning the QR code opposite (above, if using mobile) via WeChat.
If you live in south-east asia and you want to find ount more about UWS and the study options available, then you can also email China@uws.ac.uk for more information.
UWS & CHINA
University of the West of Scotland has long established links with China and over the past 10 years we have welcomed over 2,000 Chinese students onto our undergraduate, postgraduate and research programmes.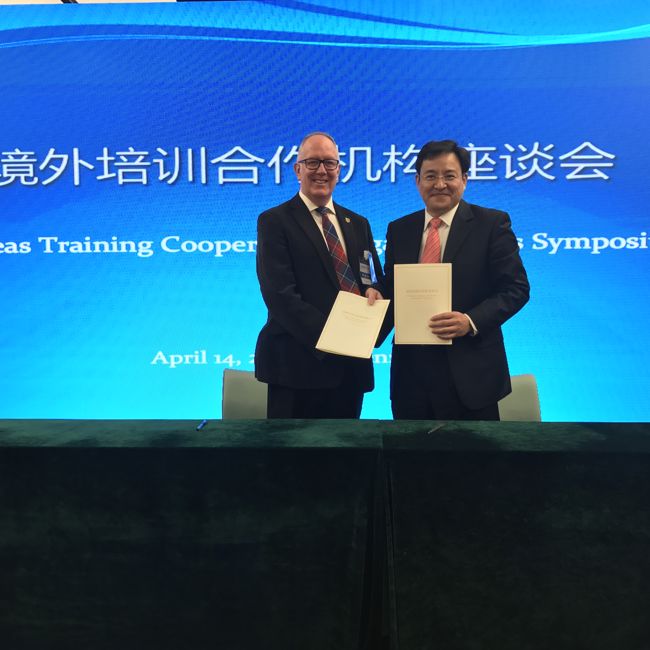 UWS Receives Official Recognition from China
UWS is an official training partner for China after receiving accreditation from China's State Administration for Foreign Expert Affairs (SAFEA). UWS is accredited as an Overseas Training and Collaborative Organisation (OTCO); enabling UWS to deliver and share training to Chinese partners in a broad number of areas of expertise.
This endorsement means UWS becomes the first organisation in Scotland to be accredited from SAFEA as part of an elite group providing foreign expertise and technical and managerial training to organisations in China.
Meet us in CHINA
We are keen to meet with students from around the world who are interested in studying at UWS. Our international team and official, local representatives can provide information and advice on a one-to-one basis, helping you to make informed decisions on your studies.
When permitted, our international team regularly travels overseas to meet students, partner institutions and to attend exhibitions and events. 
The University also has a global network of official representatives who can provide information, advice and support in choosing your university and making an application.
If you are interested in meeting one of our representatives to learn more about studying at University of the West of Scotland, please email international@uws.ac.uk.
Please note that for enquiries relating to study at UWS's London Campus, please visit: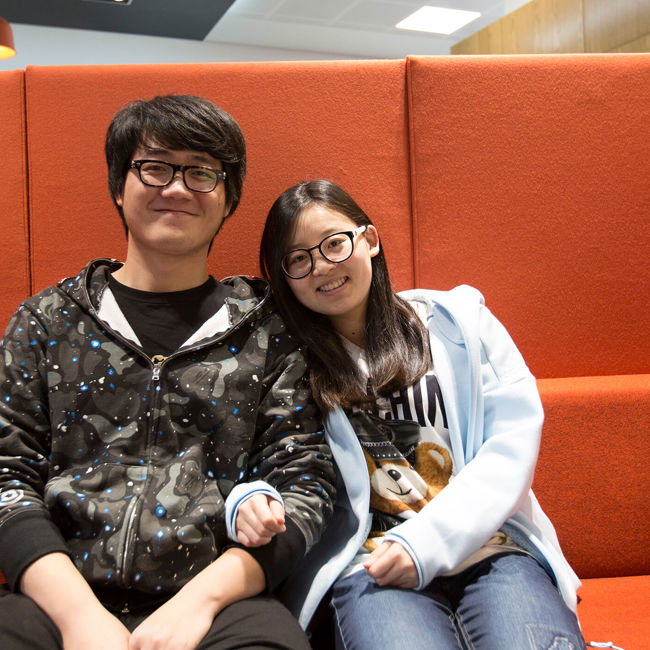 Chinese Community at UWS
There is a large, established community of Chinese students at UWS who play an active role in many of the University's social societies and sports clubs. This means that as a student at UWS, you will have the opportunity to meet people from your home country as well as making new friends from Scotland and other parts of the world.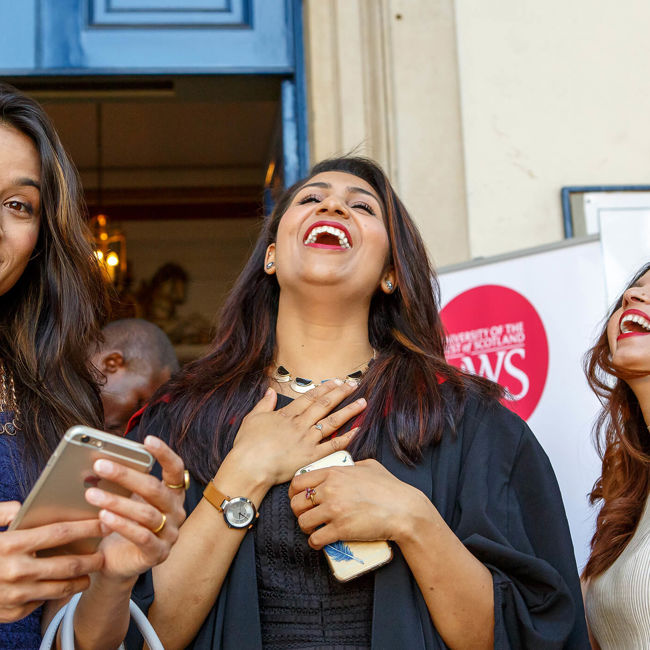 UWS ALUMNI
There are currently around 2000 UWS graduates working in China for companies such as:
Apple
Microsoft
HSBC Bank
Johnson & Johnson
UWS Chinese Educational Partnerships
UWS enjoys excellent links with China and we work closely with a number of Chinese institutions, engaging in joint research, knowledge partnerships and in running articulation programmes.
Research currently being undertaken in collaboration with our Chinese partner universities includes an assessment and mitigation of environmental issues around resource exploitation which has created challenging pollution problems across China directly affecting water and food quality.
(Please be aware that no local institutions in mainland China are authorised to deliver face-to-face classes for the MBA  programme.)
UWS educational links in China include:
UWS Representatives in China
We work with many educational representatives across China.

Many of our official representatives have offices across many Chinese provinces. However, we have simply listed their main or Head Office details here. Please use these details to find information on your local branch:
UWS official representatives based in China (A-Z)
Agency for Studying Abroad Xi'an International Studies University
Box 134, Xi'an International Studies University, No. 437 South Chang An Road, Xi'an, Shaanxi, 710061, China
email: catherinefan@hotmail.com
Telephone: 00 86 29 85 30 97 98
Amber Education - Beijing Office 
1901, CITIC Building, No. 19 Jianwai St., Chaoyang Dist., Beijing, P.R.China, 100004
email: amberbj@amberedu.com
Telephone: +86-10-65661010
Amber Education - Dalian Office 
RM1103, Rainbow Building, No. 23,Renmin Road, Zhongshan District, Dalian City,Liaoning Province, P.R.China, 116000
email: amberdl@amberedu.com
Tel: +86-411-82842288
Amber Education - Guangzhou Office
Room 301, Podium Building, Guangdong International Building, No. 339 Huanshi Dong Road, Guangzhou, Guangdong, P.R. China, 510098
email:wallacehe@amberedu.com
Tel: +86-20-22379900
Amber Education - Shenzhen Office 
Rm1901, Tower A, International Chamber of Commerce Building, No.138 Fuhua 1 Road, Futian District, Shenzhen, Guangdong, P.R.China, 518048
email: ringohuang@amberedu.com  
Telephone: +86-755-33981100
Amber Education - Wuhan Office 
Room A4316, Zhongshang Building, No.7 Zhongnan Road, Wuchang District, Wuhan, China
email: amberwh@amberedu.com  
Telephone: +86-27-59601122
Anhui Russell Education Consulting Co Limited
Room 507, Block B, Dongfang Plaza, Huizhou Ave, Baohe District, Hefei, China
email: jason.sun@reduchina.cn
Telephone: +00 86 551 65 15 11 73
Beijing International Education Institute
Room 2602, Anlian Mansion, 3rd Building of Beijing International Centre, 38 East Third Ring North Road, Chaoyang District, Beijing 100026, China
email: international6@biei.edu.cn
Telephone: +86 (0)10 8205 8 ext. 8012
Beijing New Oriental Vision Overseas Consulting Co Ltd
No 6 Haidan Central Street, Haidian District, Beijing, China
email: zhengmian@xdf.cn
Telephone: +86 10 626 055 99
Beijing Oxbridge Education & Culture Development Co. Ltd
9th F, Culture Square Renmin University of China, No 59 Zhong, Guancun Street, Haidian District, Beijing, PR China, 100872
email: wulili@oxbridgedu.org
Telephone: 010 825 09988-686
Beijing Wenwei Education & Technology Co. Ltd
20 Yongan Road, 3-A-3293, Beijing, China
email: wenwei_edu@163.com
Telephone: 186 86 181 177
Go Study Education Institute
Kochi, Kerala
email: andy@go-study.com.tw
Telephone: 0086 10 61136611-8020
Grandland International Education China
Floor 22, Block A, Pacific Century Place, Jia No2 Gongtibi Road, Chaoyang District, Beijing, China
email: jin@shunshunliuxue.com
Telephone: +86 10 659 158 66 85 63
Guandong Education Service of International Exchanges Dongguan Center
205, Block C", Huakai Plaza, Yuanmei Road, Nacheng Distric, Dongguan city, Guandong Province, PR, China
email: julie@gesiedg.org
Telephone: 0769 228 56 555
Henan Yiming Overseas Education Services Co Ltd
Room 1803-1804, 18F, Tower 1, Jincheng Intl, Plaz, 66 Jingsan Road, Zhengzhou City, Henan, China, 450008
email: zzxuefeng@hotmail.com
Telephone: 00 86 371 65 86 16 02
JJL International Education Exchange Promotion Ltd
5F, Mi Yang Tower, Yong An Dong Li, Jian Guo Men Wai Avenue, Beijing, 100022, PR China
email: marketinguk@jjl.cn
Telephone: +86 10 5683 6666
Liaoning Study Abroad Service Co Ltd
No.44-1, Nenjiang Street, Huanggu District, Shenyang, Liaoning P.R. China
email: lnlx@vip.163.com
Telephone: 86-24-86906543
Shandong TA Amy's Britain-China Educational Consultancy
7 Whilatter Road, Whitehaven, CA28 8DE, UK
email: amy@britainchinaeducation.com
Telephone: 07952 679 016
UK Education Centre
18-22 Floor 10, Sichuan University International Academic Center, No. 65 Kehua North Road, Wuhou District, Chengdu, 610091, PR China
email: assistcn@ukec.net.cn
Telephone: +86 28 6133 3947
UPIC Ltd
7-13 Linjing Back Street, ZhenAn District, Dandong, Liaoning Province China 118001
email: peng.li@upic.org.uk
Telephone: +86-4000050415
Xi'an Anglo-Chinese Overseas Study Consulting Ltd
10th Floor, Unit 1, Section B, Mine Road, Liu Nian Communities, Chanba Ecological Region, Xian city, Shanxi Province, China
email: wuguangming@bipt.edu.cn
Telephone: 8602981038849
UWS official representatives based in UK (A-Z)
Academic Powerhouse UK
2 Rusper Close, Stanmore, Middlesex, HA7 4QD, UK
email: susan.oxbridge@gmail.com
Telephone: +44208 432 0861

Aspiring Career Limited
1st Floor, Office No 6, 173-175, The point,
Cheetham Hill Road, Manchester, M8 8LG, UK
email: aspiringcareerltd@gmail.com
Telephone: +00 44 788 603 1216

BW Business Solutions (UK) Ltd
Unit G23, Waterfront Studios, 1 Dock Road, London, E16 1AH
email: bashir.ahmed@bwbsolutions.co.uk
Telephone: 0 20 7476 7066

Centre for Education
Unit C, 119-121 Whitechapel Road, London, E1 1DT, UK
email: info@cfeuk.com
Telephone: 02079984735

China-UK Culture and Commerce Associates Limited (CNUK)
1913 Portland House, Brassenden Place, London, SW1E 5RS, UK
email: tingting@cnuk.cm
Telephone: +44 (0) 207 869

Maria Consultancy London Ltd
38A The Broadway Southall, Post Office Buildings 1st Floor, Southall, Broadway, Middlesex, London UB1 1PT
email: info@mariaconsultancy.co.uk
Telephone: +44 (0) 20 3689 0942

Neuron Educare
7 Davenant Street, Whitechapel, London, E1 5NB
email: info@neuroneducare.co.uk
Telephone: 020 737 503 32
Entry & English Language Requirements
Our Admissions team are familiar with the Chinese education system and qualifications. If you have any questions about your application to study at UWS, please contact our Admissions team on: internationaladmissions@uws.ac.uk.
If it isn't your first language, you will need to have a good command of English to get the best results from your studies with us. All non-native English speakers are required to meet the English language criteria specified by the University.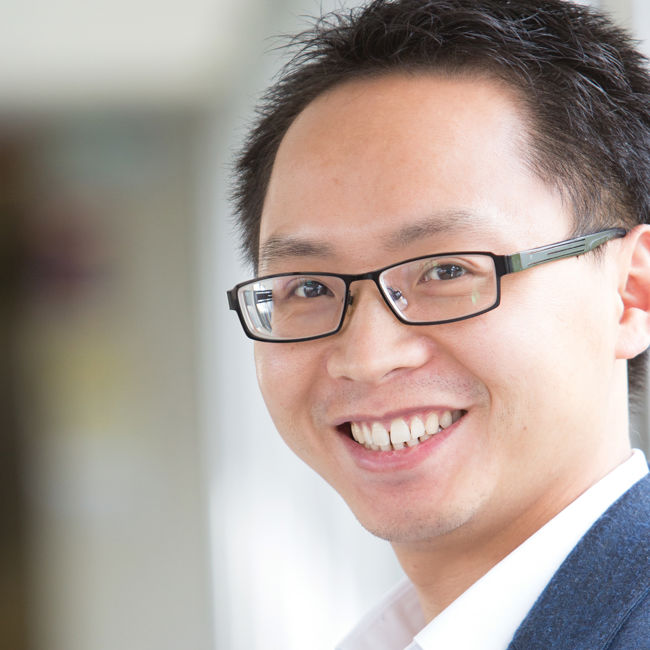 Academic Entry Requirements
You can view our most recent information regarding Bachelor or Master's degree entry requirements for Non-EU students by clicking the links below:
Undergraduate (Bachelor) Entry Requirements
How to apply
We are keen to provide as much information as possible that will help you in making your application to UWS. Below are specific notes depending on whether you are applying for one of our Bachelor (BA, BAcc, BD, BEng, BSc) degrees, Master (MA, MBA, MEd, MPH, MSc) degrees or Research (MRes, MPhil, PhD) degrees.
Applying for our Bachelor degrees
If you are applying from a non-EU/EEA country for entry to one of UWS's undergraduate degree courses, and have not applied already via UCAS, or have not applied to another UK university, then you may apply through our online application system.
International candidates applying through one of our recognised partners or agents for a full-time undergraduate degree course at UWS can also apply using our online application system.
To make the application process as smooth and stress-free as possible, we've compiled a step-by-step guide to applying to study at undergraduate level at UWS. Prior to beginning your application, we recommend that you read this to make sure you have everything you need and that you understand the process.
Applying for our Master degrees
Applying for our Research degrees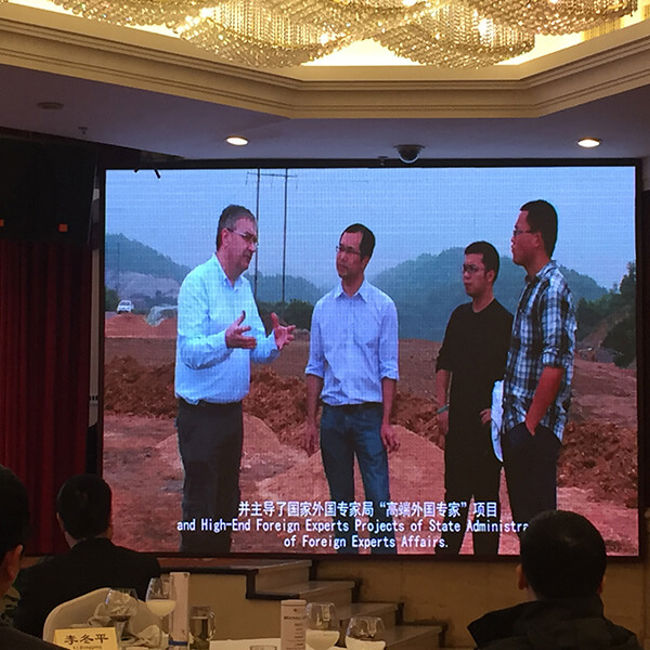 Chinese regional government awards UWS researcher
Professor Andrew Hursthouse, UWS School of Computing, Engineering and Physical Sciences, was recently awarded the Liangcheng Friendship Award of Xiangtan City, Hunan. The prestigious award is given every two years to individuals - technical experts, academics and industrialists, for example - who have made significant contribution to the development of Xiangtan and the wider region.

Andrew currently is undertaking environmental research with partner organisation Hunan University of Science and Technology (HNUST) in China.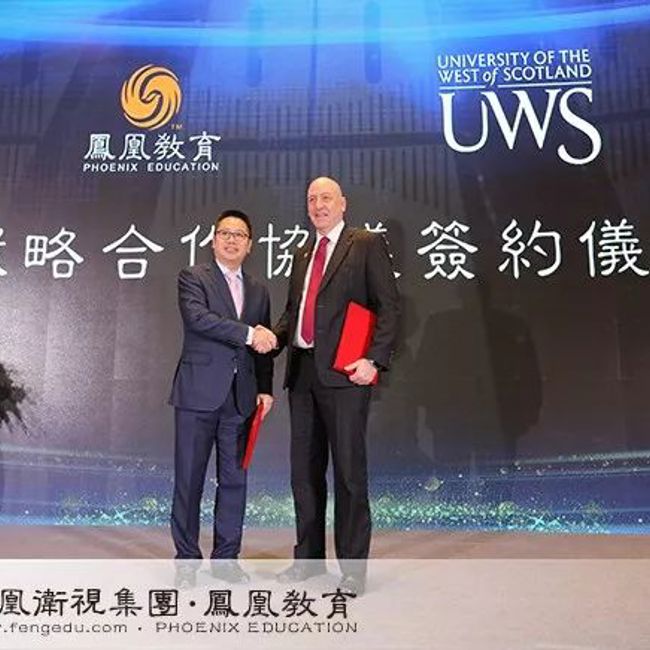 STUDENTS FROM CHINA TO BENEFIT FROM UWS EXPERTISE IN THE MEDIA INDUSTRY
On January 18 2018, Wu Haoqiang, Chief Executive Officer of Phoenix Education, and Professor Craig Mahoney, Principal and Vice Chancellor at University of the West of Scotland (UWS), signed a strategic cooperation memorandum at the Phoenix Education Annual Conference to establish an international partnership.
This partnership is designed to facilitate international student exchange between Chinese universities and the School of Media, Culture & Society at UWS. By studying one of our media courses, students from China will gain first-hand experience in a professional context and be prepared to succeed as media professionals in their country.
Last updated: 15/02/2021