reunions & networks
Are you approaching a special academic milestone? Or just planning to get together with old university friends?
The UWS Alumni Association can help you organise a memorable celebration. For instance, we can help you track down lost friends, provide a meeting space on campus or recommend venues in our local areas.
Whether or not you'd like us to help, please let us know about your plans. We're keen to publish news and photographs from alumni gatherings.
We have an alumni online community to enable former students to keep in touch, network with other alumni, join alumni groups around the world and share professional experience.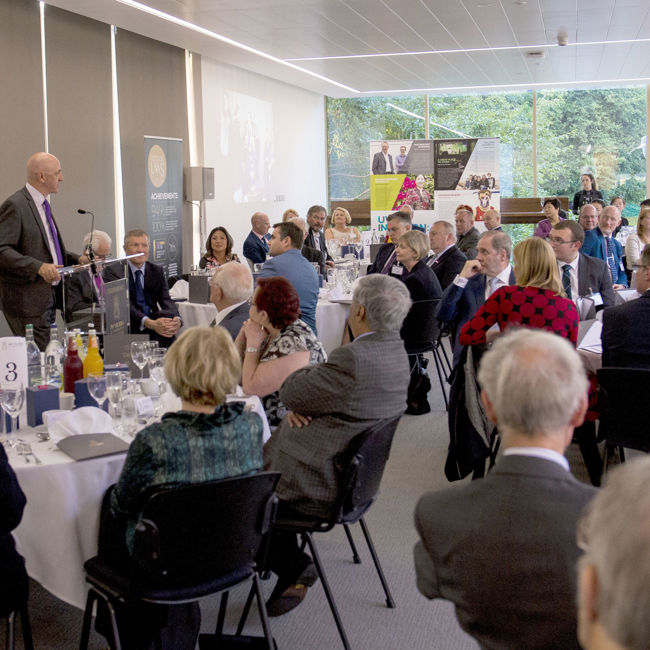 50 years of graduations
The University was founded in Paisley in 1897, playing an important role in the social and cultural life of the town. From 1903 the institution has provided courses for external degrees of the University of London, but in 1966 the then Paisley College of Technology, began to offer its own degrees under the auspices of the Council for National Academic Awards (CNAA).
Some of Paisley's first-ever graduates were among the UWS alumni who returned for a special celebration of half a century of graduation in the town.
In all, 80 alumni, honorary graduates, staff, friends and supporters of UWS gathered for the alumni dinner. They marked the approval in 1966 of the then Paisley College of Technology's Honours degrees in Chemistry and Physics and an Ordinary degree in Science by the Council for National Academic Awards.
The first cohort of graduates
The 1966 cohort was represented by four biology, science and physics graduates: Russell Henry, George Langley, Graham Milne and Hamish Vernal. Special recognition was given to 1966 Civil Engineering graduate, Dipak Basu who travelled from Canada to attend the dinner.
Other alumni returning for the event included the Rt Hon Lord McFall of Acluith, member of the House of Lords; Willie Rennie MSP, leader of the Scottish Liberal Democrats; Iain Henderson, Paisley First President; and Councillor Hamish Vernal, Provost of Aberdeenshire.
View the film below commissioned to mark this 50 year milestone.
Last updated: 24/07/2020