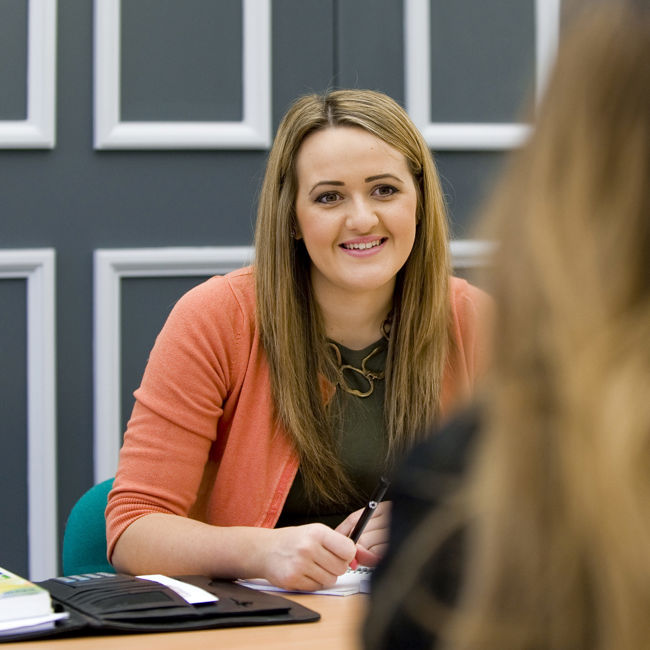 Developing your career
Your UWS Careers Team is here to help you achieve your career goals by providing professional careers education, information, advice and guidance. You can use the resources and services of the UWS Careers Team from first year through to two years after graduation.
All students are automatically registered with the UWS Online Careers & Skills Centre where you will find a wide variety of resources for Career and Academic Skills Development.
(Note that you may need to log in with your UWS Office365 log in details if you're not already logged in.) If you have any problems accessing the website please contact us: careers@uws.ac.uk  
Careers development
As a UWS student and up to two years after graduating, you can benefit from one-to-one careers guidance. 
Our qualified careers advisers provide support on career planning, graduate recruitment, placement, part-time work, summer jobs and volunteering. We're a member of AGCAS Scotland, the professional body for higher education careers advice.
What to expect
Our experienced advisers can help on issues including:
specific career options open to you
labour market information
job search and selection processes
changing or leaving a course
finding work and study opportunities
helping you identify your skills and strengths
using social media for your career
These are just a few ideas. It's your appointment and you set the agenda!
We will:
give you impartial guidance
support you in decision-making
focus on your needs
help you to set priorities
provide accurate and up-to-date information
refer you to other sources of information and help where appropriate
If we can't offer a suitable face-to-face appointment, you can arrange to get advice by phone or email. You can find details on how to do this in the Online Careers and Skills Centre.
Academic development
As a current student, you can also get academic advice, guidance and resources from our academic skills advisers. This support is designed to help enhance your academic and practical skills for success at university and beyond.
Topics include:
time management
note-taking and effective learning
grammar and punctuation
reading skills
critical thinking
exams and revision
giving presentations
referencing and avoiding plagiarism
interpreting feedback 
reflective thinking
writing essays, reports and dissertations
personal development planning 
using software to support your studies
We are also happy to arrange small group sessions. Email your request to skills@uws.ac.uk.
Please note that we are not able to provide a proofreading service, subject-specific content or specialist support for English as a second language.
Information on English language support can be found here.
Online Careers and Skills Centre
All students are automatically registered with the UWS Online Careers & Skills Centre where you will find a wide variety of resources for Career and Academic Skills Development. These resources include:
A CV Builder
An Interview Simulator that lets you practice your interview skills
Strengths and skills assessments
Employer videos
Advice on academic writing and referencing
Using study support tools
This list is just a small sample of what's available. Log in to explore.
It's also where you will find the booking calendar for Academic Skills and Careers Appointments and Events.
Support for part-time and distance learning students
Our online resources are available to all students, no matter where they are. We also offer telephone, video and email support to students who cannot be on campus for any reason.
Support for UWS research staff
Our services and resources are available to UWS early career research staff. Log into the Online Careers and Skills Centre with your 8 digit staff ID number and your usual network password.
Support for UWS Alumni
UWS alumni are welcome to use the careers service for up to two years after graduation.
To register your Alumni account please download and complete this Registration Form and return it to careers@uws.ac.uk
Alumni can also register an alumni account on our Vacancies Website
Resources
You can find a range of other information online:
Careers Week newsletter, sent to your inbox every Friday afternoon
If you need help accessing any of our information resources, please contact us: careers@uws.ac.uk.
Workshops and events
You can take part in workshops, webinars and employer presentations. Some of these are delivered in class in partnership with teaching staff, and others are open to any students. We promote these in our calendar in the Online Careers and Skills Centre. The calendar also includes details of relevant external events, such as careers fairs.
Contact us
On Campus
Ayr: Room 3.04
Dumfries: Dudgeon House Reception
Lanarkshire: The HUB
Paisley: The HUB, Library Building
HUB Student Portal
Current students can also find answers to FAQs by logging in to the HUB Student Portal. 
Telephone
For student & graduate telephone enquiries, call the HUB on 0141 848 3800.
Email
Last updated: 31/10/2020