What are Graduate Attributes?
Graduate attributes are the skills, personal qualities and understanding to be developed through your university experience that will prepare for life and work in the 21st century.
You may not realise it at the time, but being a university student will expose you to and help you develop many skills and attributes that will help you make a contribution to your community and society at large. Apart from the subject knowledge and expertise you will develop at university, there are many skills, abilities and qualities that will help you beyond your university studies. These will develop within you during your studies and will help prepare you for gaining employment and making a positive contribution to society.
You will likely acquire skills such as report writing, working to deadlines, making presentations, working in teams, creating portfolios, playing sports, being members of societies and volunteering. Some abilities you will develop include, thinking critically and creatively, and in an analytical manner whilst being able to work effectively independently and collaboratively as part of a team.
We, at UWS, are totally committed to help you develop these transferable skills and abilities so as you may graduate knowing that you can make a difference to society. The UWS Graduate Attributes were created to reflect the range of skills, qualities and abilities you can develop at UWS which will help to prepare you for success outwith/beyond university.
UWS Graduate Attributes
As a graduate from UWS you will be:
Universal - globally relevant with comprehensively applicable abilities, skills and behaviours
Work ready - dynamic and prepared for employment in complex, ever-changing environments which require lifelong learning and resilience
Successful - as a UWS graduate with a solid foundation on which to continue succeeding and realising my potential, across various contexts
Through studying and graduating from UWS, you will develop attributes across three dimensions:
Academic – knowledge, skills and abilities related to high-level academic study
Personal – qualities and characteristics of well-rounded, developed, responsible individuals
Professional – skills, aptitudes and attitudes required for professional working life in the 21st Century
The underpinning attributes are developed through the key skills and competencies you will learn as part of your degree programme: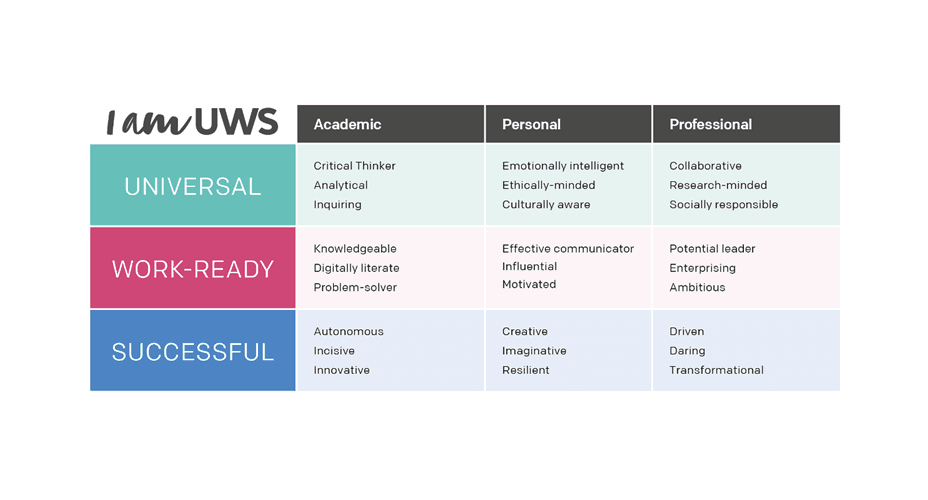 At UWS, our aim is to provide you with opportunities to develop academically, personally and professionally: to broaden your ambitions, extend your attitudes, challenge your assumptions, and assist you in unlocking your potential and succeed in your studies and future lives. Our graduate attributes (I am UWS) have been developed to reflect the vision where you are work-ready and able to successfully contribute both locally and globally.
I am Universal, Work ready and Successful; I am UWS
'I am UWS' reflects a breadth of graduate attributes that are developed during your time at UWS. It provides a mechanism to recognise and consider the skills and mindsets that you already possess and how these can be useful, now and in the future. Having our own UWS Graduate Attributes provides a framework around which students and staff can focus their discussions and reflect on your personal development, to help make the most of the wealth of opportunities that studying at UWS offers, whilst encouraging you to maximise your time at UWS.
Your time at university will see you grow not only your knowledge-base but your confidence and abilities to deal with life and work in the 21st century. Developing your graduate attributes is not arduous; it can be fun too. Reflect on all your time and achievements at university and you will find that you are Universal, Work-ready and Successful; you are UWS.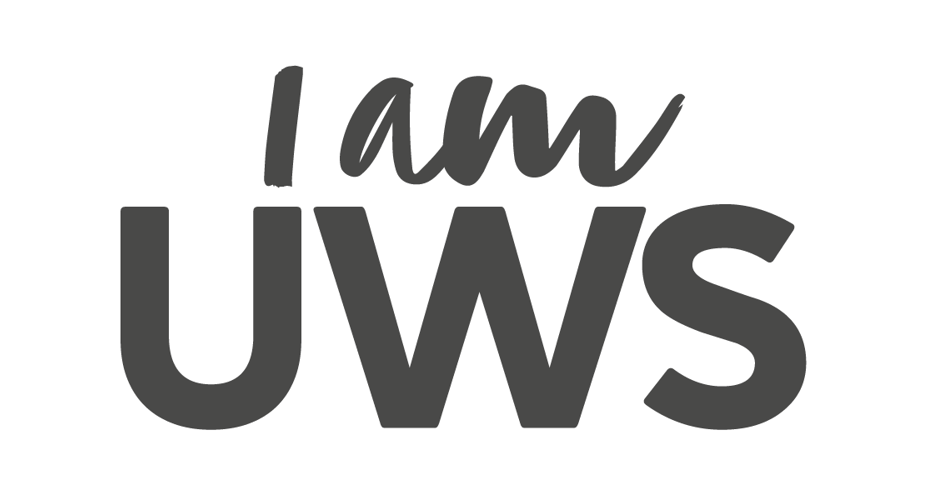 Last updated: 24/01/2018