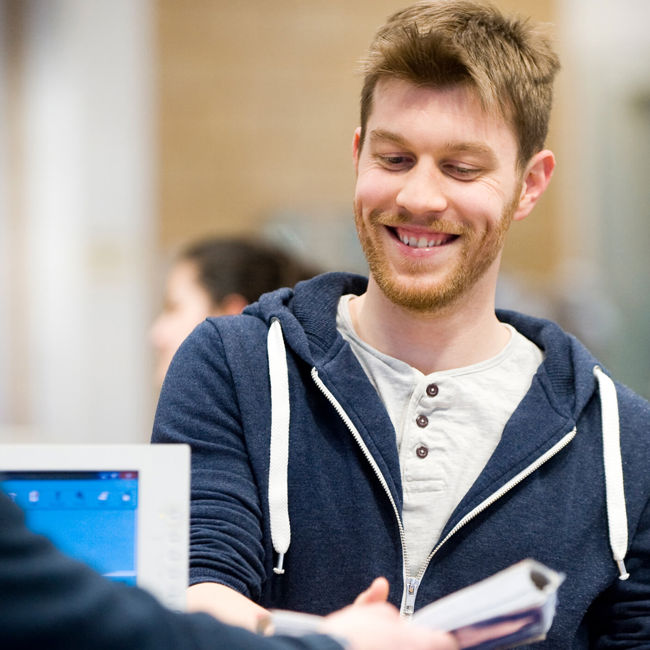 Disability Support
Every student should be able to experience the full range of the university's activities. If you have a disability, a long-standing medical condition or a specific learning difficulty such as dyslexia, the Disability Service can help you make the most of your time at UWS.
To arrange a meeting with an Adviser please contact us by completing a the Student Support Request Form (Word).
Please return your completed form to: disabilityservice@uws.ac.uk You can also submit your completed form in person at the Student Hub on your campus.
You can see our full Disability Service Privacy Statement here.
Personalised support
Our advisers can work with you to develop the right support for lectures, individual study and assessments. Support is flexible: it can be adapted to the changing demands of your course.
We can:
liaise with academic staff about any reasonable adjustments you need
recommend exam support, such as extra time or use of a PC
make a referral to the university's occupational therapist
make arrangements in other areas, such as library support or blue badge parking
access funding for equipment or support.
Specific learning difficulties
Specific learning difficulties include conditions such as dyslexia, dyscalculia and dyspraxia.
UWS is an inclusive and modern university. All students can make use of facilities such as:
lecture capture (where lectures are recorded, usually the slideshow plus audio)
lecture materials provided in advance on Moodle
assistive software on all campus PCs, with packages for mind-mapping, read-aloud and enhanced spelling and grammar checking
skills development advisers to help improve your study skills.
Most students with a specific learning difficulty will find these resources meet their needs. But if you feel you need extra support, please contact us by completing a request form.
Study resources and assistive technology
Kevin Wilson outlines how our Academic Skills Advisers can support your learning.
You can find more information on our Study Support tools guide.
SilverCloud
SilverCloud gives you secure, immediate access to interactive CBT (cognitive behavioural therapy) modules.
Programmes include:
Space from Stress
Space from Anxiety
Space from Depression
Space for Positive Body Image
It's easy to use, interesting and motivational. Access it anywhere on your computer, tablet or mobile. Learn more and sign up online. 
Online accessibility
Many websites provide help on how to get the most of the accessibility features and assistive technologies available for your computer. Here are a few we would recommend.
Last updated: 18/06/2021